Hot Picks

Fox Hunt Drive


USA 2020
produced by
Alejandro Treviño, Ken Goldstone (executive), Bill Heavener (executive), Drew Walkup (executive) for REBL HQ
directed by Drew Walkup
starring Lizzie Zerebko, Michael Olavson, Edward Craig, Ryan Forrestal, Sam Lukowski, J.R. Ridge, Alea Figueroa, Christopher Labato, Stefen Laurantz, Kevin Morgan, Shane Costa, Danny Loecken, Tyler Reefer, David Christiano, Jennifer Hill, Liz M. Day, John Hardy, Ronald Fox, Ronyai Hawkins, Mary Jane Bostic (voice)
written by Adam Armstrong, Marcus Devivo

review by
Mike Haberfelner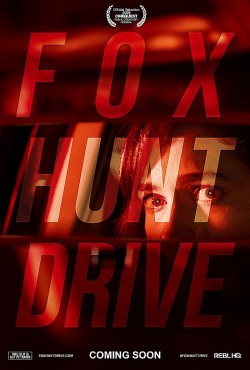 Alison (Lizzie Zerebko) once worked as an architect, but an affair with her boss got her fired, and now to make ends meet she drives for a rideshare company - and the last passenger for the night (Michael Olavson) sure freaks her out as he's clearly not the person in the picture of his passenger profile, and only has a flimsy excuse as to why, he evades all questions about himself, and music gives him nausea. So at a stop when he's going for a pee, she goes through his things and finds lots of jewelry that obviously isn't his, and some of it covered in blood, and a gun. Of course, that makes Alison nervous, so she fakes a car malfunction and while pretending to take a look at the engine calls a friend for backup - too late it seems as he catches her on the phone and forces her to drive on. Then she sees him brandishing the gun in the back seat, grabs it - and in a moment of distraction runs over a man (Kevin Morgan), who dies in the process. She wants to call the police, but he convinces her that this would destroy her as she'd be convicted of manslaughter, but offers to help her make the dead body disappear - if only she drives him to his destination first ... which turns out to be a drug den. There though, Alison witnesses her passenger to perform professional first aid on a girl almost dying from an overdose, and her views on him change. Driving on, they finally have a heart-to-heart and Alison learns her passenger's a paramedic who, to make ends meet, has made it his habit to steal jewelry from the dead. And he went to the drug den to buy not quite legal pain blockers for himself. And he helps her just because she needs helped. So flawed as he might be, he's a good guy, essentially.
What Alison and her passenger don't know is that a cop (Ryan Forrestal) who has found massive amounts of blood and a show on the scene of their accident is now investigating this as a murder case, and slowly but surely he gets closer and closer, until he stops Alison's car and demands for her to open the trunk where the dead body's stored. In the meantime, checking the dead man's cellphone, the passenger makes a disquieting discovery - when a gunshot is fired ...
Now this is basically a pretty cool, character-driven thriller that gets the most out of its situation, and even its main, very confined location, and plays its emotional registers to the hilt - but in a way that always remains believable and even relatable. This is of course also helped by its two very solid leads, while a dynamic directorial effort keeps the tension high throughout, and favouring suspense over spectacle sees to it that the movie never topples over towards the ridiculous. And the reveal in the third act that totally turns everything that happened before onto its head deserves special praise as closing out an already strong genre movie on a high note.