Hot Picks

Fugue


Canada 2018
produced by
Christine Rochon, Avi Federgreen (executive), Warren P. Sonoda (executive) for Rock Street Films North
directed by Tomas Street
starring Jack Foley, Laura Tremblay, Mike Donis, Kristen Da Silva, Michael Lipka, Evan Siemann
written by Tomas Street, music by Jonathan Kawchuck, Joshua Lawrence & Ryan Barwin, Mitch Houle, Abigail Thorpe

review by
Mike Haberfelner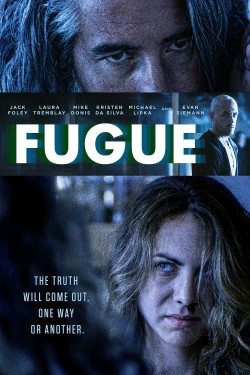 Malcolm (Jack Foley) wakes up ... with no idea where he is or who he is even - but in a nice home that's apparently his, and some medication on his nightstand with a reminder to take them after waking up. When he goes to investigate the house, he stumbles upon beautiful Helen (Laura Tremblay), who is quick to tell him that she's his wife and he's suffering from amnesia, but assures him that it's temporal as long as he keeps taking his medication, and also tells him it's not the first time he has woken up with no memory of her. Soon enough they have passionate sex - and by the by shreds of memory seem to return, thanks to Helen's love and care. Then Ian (Mike Donis), a friend, shows up on the doorstep and tries to help Helen trigger some of Malcolm's memories, to her obvious dismay, and it's not long before Malcolm figures there's something wrong with Ian, but he doesn't say a word to Helen.
That night, two masked man break into Malcolm and Helen's home, take her hostage, and try to force him to open a safe in a closet - but with most of his memory gone it's impossible for him to remember the combination. Eventually, he tries to put up a fight but is knocked out.
Flashback to earlier in the same house: Malcolm and his wife Patrice (Kristen Da Silva) celebrate the birthday of their son Sam (Evan Siemann) when two masked men break in, take Patrice and Sam hostage and try to force Malcolm to open the safe in the closet. But he refuses and puts up a good fight, but is ultimately knocked out. The masked men call in their safecracker (Michael Lipka), but all he can tell them is if the safe is opened by anything but the right combination, it will self-destruct, so to get the combination for the safe out of Malcolm, they need a plan B ...
Basically, this movie is Hitchcock's macguffin played to the hilt: We never remotely learn what's in the safe (other than that Malcolm is guarding it for someone else), nor who Malcolm is working for or why his adversaries want it, reducing whatever-it-is to a mere trigger for everything that happens - and it works because in good Hitchcock tradition, this film focuses on suspense rather than losing itself in long explanations. That said, this film is hardly a Hitchcock clone in any way but totally stands on its own spinning an original yarn with quite a surprise about halfway through. And all of this is carried by a dynamic direction and a strong ensemble cast, making this one really cool thriller.