Hot Picks

Gremlin


USA 2017
produced by
Ryan Bellgardt, Josh McKamie, Andy Swanson, Chris Hoyt, Ted Moore (executive), Robyn Healy Campbell (executive), Hugh Hale (executive), J. Andrew McKamie (executive) for Boiling Point Media
directed by Ryan Bellgardt
starring Adam Hampton, Kristy K. Boone, Catcher Stair, Mike Page, Katie Burgess, Mike Waugh, Connie Franklin, Caleb Milby, Vicki Wilcox, Kyle Pennington, Rachael Messer, Stacy Casaluci, Raychelle McDonald, Chris Crane, Christopher Sneed, Lee West, William Sturgeon, Josh McKamie (voice), Christian Bellgardt, Tyler Cobb, Jamal Page, Stephanie Roach, Dustin Faust
written by Ryan Bellgardt, music by David Stone Hamilton, visual effects by Ryan Bellgardt

review by
Mike Haberfelner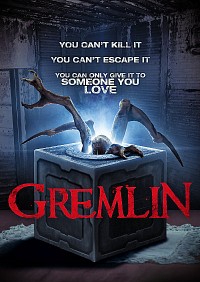 Jim (Mike Waugh) gives his mother Mary (Vicki Wilcox) an antique box as a present, telling her it's of the utmost importance that she passes it on to somebody she loves - so she gives it to her son-in-law Adam (Adam Hampton), who with his family is living with her. That night, Mary dies, being stabbed in the heart by ... nobody really knows who, but Adam's son Charlie (Catcher Stair) insists it was a monster living in the box. Nobody believes him of course ... but the next day the whole family sees the monster emerge from the box, attack them and finally kill Adam's daughter Anna's (Katie Burgess) boyfriend Tyler (Caleb Milby) before retreating again. Adam's afraid that nobody will believe the monster-in-the-box story so they decide to hide Tyler's body in the basement and try to get rid of the box - which is easier said than done as the box is indestructible and it seems to somehow be virtually attached to Adam, to whatever length he goes to get rid of it, it always returns home rather magic-like. And then the creature emerges again and kills Anna. At this point, Adam's wife Julie (Kristy K. Boone) decides to leave him together with Charlie, and Adam makes a feeble attempt to get rid of the box by giving it to his affair Natalie (Connie Franklin), but it's futile, the creature inside just kills her and stays with Adam as before - until it makes for the motel Julie and Charlie are staying at ... and now Adam knows it's really personal - but how to stop a creature one can't destroy?
Ok, one thing upfront: despite this movie's title (and the fact that it's a creature feature), this movie has exactly nothing in common with the pair of tiny creature comedies that Joe Dante directed in the 1980s. Instead, this Gremlin is a rather serious horror movie with little in terms of endearing humour, and even if the story is objectively speaking quite ridiculous, it works in the context of the movie, plus it really manages to shock and surprise with its kills, not only how they are achieved but also by the mere fact that it shows no hesitation to kill off some of its most likeable characters rather than leaving the dying to cannon fodder supporting roles. Plus, it's very effectively directed, with a CGI creature that looks suitably horrifying. And that the film is carried by a competent cast doesn't hurt much either of course. Plus, the finale holds a special surprise, too!
In all, really nice genre entertainment!