Hot Picks

Grinder


USA 2015
produced by
Barney Oldfield, Gregg Colbert (executive), Wes Cole (executive) for Ruckus Film Works
directed by Brandon Ruckdashel
starring Tyler Austin, Jon Fleming, Brandon Ruckdashel, Sarah Lazar, Jay Reum, Jose Ramos, Julian Gavilanes, Eric Rivas, Joseph Spinelli, Joshua Dye, Finn Cutler, Chad Giovanni, Adam Bourque, Cherie Chetyrbok, Christy Gutierrez, Sam Hariss, Amadi Carter, Jacqueline Reynolds, Hunter Wolfson, Greg Nugent, Nadine Kübler, Parisaprew Rueangaram, Jeffrey Sake, Sarah Martin
written by Brandon Ruckdashel, music by Chris Winham

review by
Mike Haberfelner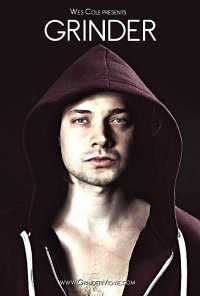 16 year old Luke (Tyler Austin) has long had enough from living with his unemployed and usually drunk father, so after a particularly unpleasant dispute, he just packs his bags and heads off to New York City. He's got a plan though, he knows a manager in the model world, Rich (Jon Fleming), who has made him some promises ... and the guy's just great, he lets him stay at his place for the time being, provides him with money, makes him gifts. Now sure, Rich demands the occasional sexual favour in return - but hey, he's actually pretty good-looking and Luke feels drawn to him anyways, so that's not even much of a sacrifice ...
When Rich mistreats another model of his (Jay Reum), who was rather obviously his previous live-in model, Luke doubts things for a moment, but he figures as long as he doesn't make the mistakes the other guy makes ...
Tim (Brandon Ruckdashel) is an associate of Rich, a photographer who often works with him ... but he is (or at least tries to be) pretty much on the level - but he's got his own problems, he has a fiancée (Sarah Lazar), and he just can't persuade himself that he's actually 100% straight, so while he loves her, he does have some gay affairs on the side. And then during a shoot, he falls for Luke - but Luke wants to remain faithful to Rich so he pushes him back - totally oblivious to what Rich will ask him to do next and how little he actuall thinks of him ...
Sure, the story of this movie might have been told before (in both gay and straight versions) many times ever since there've been models to exploit - but Grinder is really good in not just presenting its audience with the same clichés yet again but telling the story in an unusually engaging way that shows the abbysses of the modelling industry without being moralizing let alone judgmental about it all instead does try to get its story across including the many grey areas that usually get shut out in movies of this ilk. This is also thanks to some great directorial choices (especially the way the scene where Tim watches that other model mistreated is compelling), and of course a first rate cast.
Totally worth your time and money!