Hot Picks

The Home Invaders


USA 2016
produced by
Michael Fredianelli, Peter Stylianos (executive) for Wild Dogs Productions
directed by Michael Fredianelli
starring Jeremy Koerner, Ray Medved, Maggie VandenBerghe, Michael Fredianelli, Gene Mocsy, Gift Harris, Peter Stylianos, Dawn Cates, James Allen Brewer, Carl Joseph Schreiber, Maralynn Adams, Gabriel Gerhard, Dick Raley, Mike Dinsmore, Chris Reed, Kosuke Okamura, Wesley Righetti
written by Michael Fredianelli, music by Clay Rudolph Scott

review by
Mike Haberfelner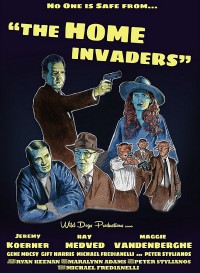 Avery (Jeremy Koerner) has just been released from prison, and now he wants to remain on the straight and narrow - even if his former boss Frank (Ray Medved) offers him a job, a simple home invasion, pretty much on the spot, and his sort-of girlfriend Summer (Maggie VandenBerghe) urges him to accept it. But no, he dreams of skipping state and running a farm somwhere in the country - but at the moment he's still a bit short on money, so accepts a job - only to run into trouble, and to find out his parol officer Sanders (Gene Mocsy) seems to have some ulterior motives of his own when handling Avery ... and suddenly, Avery sees himself pretty much forced to accept Frank's offer and sell him to Sanders ...
As mentioned, the job should have been a simple home invasion, opening a safe, relieving it of a bunch of papers and then make a getaway - except for two problems, the men Frank has teamed Avery up with, lame-brained trigger-happy Marco (Michael Fredianelli) and rape-happy Harry (Gift Harris), are not exactly the sort of people one would trust all that much and are almost sure to cause trouble, and then the safe Avery is to open is right in the home owners' (Peter Stylianos, Dawn Cates) bedroom, and of course they wake up during Avery's attempts to open the safe. Thing is, the master of the house gets a grip what's going on pretty quickly, does not keep the papers in his safe, and wouldn't tell Avery where they are even when Avery lets Harry rape his wife. Avery finds the papers nevertheless, but he also finds out he has been tricked by pretty much everyone in the story - and then bullets start to fly ...
Set shortly after World War 2, this film has been appropriately shot in black and white, and not only the story but also the aesthetics and even dialogue and score are more than a little reminiscent of film noirs of old - and it works pretty well, actually, as this movie never tries to simply ape the style of yesteryear but uses its look and feel to really bring the story across, and it is remarkably free of all sorts of post-modernism or self-irony, instead concentrates on telling a compelling story. And a solid cast doesn't hurt one bit either of course!