Hot Picks

House by the Lake


USA 2017
produced by
James Callis, Anne Dudek, Jace Anderson, Brian Cooperman, Gary King, Mike De Trana, Josh Burnell (executive), Joey Burnell (executive)
directed by Adam Gierasch
starring James Callis, Anne Dudek, Natasha Bassett, Amiah Miller, Michael Bowen, Guy Nardulli, Mark Berry, Lee Garlington, Jon Fedele
story by Josh Burnell, Mike De Trana, Keegan Wilcox, screenplay by Josh Burnell, music by Adam Barber, creature effects by Ron Karkoska, Mark Villalobos/Monster FX, additional special effects by Jessica J. Eisenman

review by
Mike Haberfelner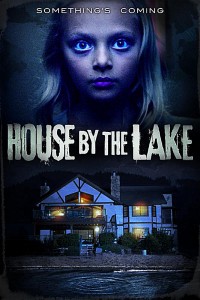 To give their autistic daughter Emma (Amiah Miller) at least some change, Scott (James Callis) and Karen (Anne Dudek) decide to move into his parents' holiday home by the sea, to maybe at least heal her from her unreasonable fear of water, and they hire a young carer for her, Gwen (Natasha Bassett), as well, as especially of late, Karen had difficulties coping with Emma's mood swings. Now Gwen, despite her young age, does manage to connect with Emma very quickly, and it seems Emma's opening up more to her than she ever has to her parents - much to especially Karen's dismay, as Gwen's also pretty and she thinks her husband fancies her ... but that's only happening in her mind.
But as good as Gwen seems for her, Emma's not improving, she starts sleepwalking again, she's drawing more excessively than ever and her drawings take a bizarre turn, she becomes oddly obsessed with water, and she starts talking about her new friend, the fishman, who's teaching her to breathe underwater - which of course has no foundation in reality. And then Emma disappears, and her parents are quick to accuse a neighbour (Michael Bowen), who turns out to be a registered sex offender. In the meantime though, Gwen has made sense of the girl's drawings, and what she has come up with is if anything even more disturbing ...
House by the Lake is definitely a film of the slow burn variety, giving up its secrets only very slowly and taking its time to build up atmosphere and tension - but that works very much in the film's favour as it keeps the audience guessing and leads the viewer astray, staying as far away from formula within a straightforward horror context as possible. And it's got a cast of very interesting characters (played by a solid ensemble) to keep one glued to the screen. And whatever you thought was going on, the finale is almost sure to surprise.
Not your usual genre fodder, and highly enjoyable for exactly that reason!