Hot Picks

The Incantation


USA 2018
produced by
Dan Campbell, Gary B. Sullivan (executive), Julie A. Sullivan (executive) for Blue Falcon Productions, House of Rose
directed by Jude S. Walko
starring Sam Valentine, Dean Cain, Dylan Kellogg, Jude S. Walko, Beatrice Orro, Caroline Gatouillat, Astrid Briat, Violette Dubreuil, Sophie 'Sweet Shop' Malki, Alexis Gueroult, Martine Francois, Amiot Bernard, Jean-Pierre Fouet, Jerome Marchand, Thibault Carves, Allan Vincent Swan, Margie Clarke
written by Jude S. Walko, music by Daniel Lepervanche, Cavin 21 Note House Music

review by
Mike Haberfelner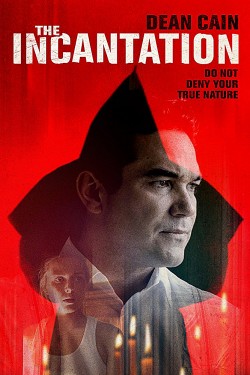 So Lucy's (Sam Valentine) French uncle died ... but that doesn't hit her too hard since she has never met the guy, and his death actually means that she gets to travel to France for his funeral and to stay at his castle that now falls to her family while there. Things though get almost immediately weird when she gets there, as the Vicar (Jude S. Walko) who looks after the castle for Lucy's deceased uncle sure is spooky, the chambermaid (Beatrice Orro) is nothing short of weird, and then there's also this odd insurance salesman (Dean Cain) who for some undisclosed reason sticks around. The Vicar introduces her to a set of house rules, too, but Lucy decides to break them all, since basically it's her castle more than his - and eventually she finds a book on witchcraft which holds an odd fascination for her.
Things take a turn for the eerie when Jean Pierre (Dylan Kellogg), a neighbourhood guy about her age whom she soon falls for, tells her about her dark family history, and she keeps seeing a girl (Caroline Gatouillat) just out of her reach who she never manages to catch up with.
Things get yet weirder when she one day loses her way in the woods, is drugged, threatened, passes out ... and wakes up in her bed in the castle. Soon enough, Lucy has to realize she's part of something bigger, and something evil at that, and that the Vicar, the chambermaid and the insurance salesman are all part of it, but she has no idea how to evade them - or what they have in mind even ...
The Incantation is a very effective horror movie that manages to stay fresh and in the now while telling what's basically a gothic tale in the proper "gothic" locations - and that's thanks to a clever screenplay that keeps one guessing till the end, a directorial effort that takes a cue from genre flicks of old but doesn't try to imitate, and also a strong cast with a very relatable lead. And add to that the beautiful and impressive locations to add both atmosphere and authenticity, and you're up for pretty cool genre entertainment.