Hot Picks

Karate Ghost


USA 2023
produced by
James Balsamo, Joe Borlik, Bobby Canipe jr for Acid Bath Productions
directed by Bobby Canipe jr
starring Joe Borlik, James Balsamo, Cagney Larkin, Morrigan Thompson, Bobby Canipe jr, Niki Parks, Jamie Apple, Ryan Martel, Jarrod Carpenter, Garrick Lane, Joseph Blackwater, Mason Hamby, Noah McDowell, Tyree Hoffman, Jimmie Lee, Ty Simmons (voice), Kiera Arthur, Adam Gonzales (voice), Charles Wright (= The Godfather)
written by James Balsamo, Joe Borlik, Bobby Canipe jr, music by Michael Trapp, Whipworm, special effects by Megan Amberly Grant, Get Dead Crew, Ava Neely

review by
Mike Haberfelner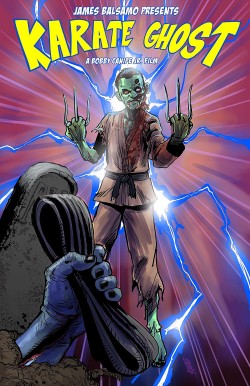 Black Belt Joe (Joe Borlik) has gained quite some notoriety for always killing his opponents in martial arts tournaments, which he's able to by using the secret art of jujitsu, against which his opponents know no defense. One of these opponents is Rick Laser (Niki Parks), who bleeds to death after Joe has ripped off his arm. But Rick has a brother, Nick Laser (James Balsamo), a martial arts master just like him, who has found out about Joe's secret, takes jujitsu lessons, and enters a tournament to fight Joe. And when fighting him, he learns that Joe's secret power lies in his black belt. So he removes Joe's black belt and kills him in fight, fair and square. Thing is, from here on no drop of blood must even touch the belt, otherwise Joe will come back to life as a jujitsu-geist, so Nick has to keep it safe from here on ...
It's ten years later, and Nick has since taken a job as a maintenance man at a local dojo - which has recently gotten a new owner, Allen (Cagney Larkin), who's actually quite impressed by Nick's skills ... but also by the black belt he keeps in a box, so he plays around with it, injures himself, gets blood on the belt and - meet Karate Ghost!!!
I won't deny it, Karate Ghost has some issues on the technical side of things, especially when it comes to sound there's room for improvement. But that said, the movie's also pretty hilarious quite despite that. Especially if you're into low budget martial arts movies, you'll most certainly get a kick out of this one, from its overly formulaic and frankly silly plot to its acting that would make any WWE wrestler proud, to its intentionally atrocious martial arts to its lack of production values, this more has everything you'd come to expect from a genre flick and makes proper fun of it. Now sure, the humour isn't exactly high brow - but then again I dare you to not laugh even a little through the whole thing.