Hot Picks

Karpenter


USA 2017
produced by
Tim Nydell, Danielle Ackerman, Christian Ackerman (executive) for FastCoast Productions
directed by Christian Ackerman
starring Tim Nydell, Lydia Jessop, D.J. Sherwood, Will Ponder, Don Earl, Becky Nydell, Danielle Ackerman, Christian Ackerman, Jenni Johnson, Mara Luther, Lindsey Zachariasen, Casey Lynn Stuckey, John Springer, Denise Rose, Morgan Kellar, Jessica Downey, Riley Earl, Lucas Paparra
written by Christian Ackerman, music by B.L. Fisher, special makeup effects by Sandra Stuckey, Casey Lynn Stuckey/Siren Studio FX

review by
Mike Haberfelner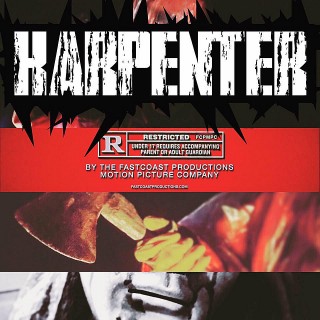 It's Halloween, and everybody's in a party mood - everybody but Sara (Lydia Jessop), who dreads the day ever since one Halloween, in her childhood, she thought she saw the same masked man everywhere, as if he was following her. Which was of course more than a bit disquieting. And this Halloween, she thinks she again sees a masked man hanging about her place - which would make sense, since a dangerous psychokiller, Karpenter (Tim Nydell) has broken out of the asylum he was kept at, and the police has so far been unable to track him down - what with all the partygoers in their Halloween masks littering the streets.
Winnie's (Danielle Ackerman) having a Halloween party this year, and Sara is persuaded by her boyfriend Mark (D.J. Sherwood) to attend despite her reservations, she even dresses up as Red Riding Hood. But of course, Karpenter shows up at the party, and he's carrying an ax - and he intends to use it, too ...
Director Christian Ackerman makes a rather scene-stealing appearance as a musician who talks everybody to death while not grasping the situation at all.
So ok, Karpenter is not exactly the reinvention of the wheel - but it apparently doesn't intend to be, even its title suggests that it's an hommage to John Carpenter's Halloween, which already describes this movie pretty well. But while there are more Halloween-hommages out there than I'll ever be able to watch, this one has an edge over most as it also works as a very well executed exercise in suspense filmmaking, something most slasher movies substitute with jump scares, gore and inventive killings. Karpenter might have all of this as well, but what the film's really good at is building up tension and atmosphere - and mostly with techniques (down to a minimalist score) already at hand for the original Halloween -, all of which culminate in a finale that couldn't be tighter.
Basically a film slasher fans are bound to love and even those not into the genre at all might get a bit of a kick out of.