Hot Picks

The Laughing Mask


USA 2014
produced by
David Lopez, Michael Aguiar (executive), Arnobio Holanda (executive), William Schweikert (executive), John Tude (executive) for Pendragon Productions, Bravestarr Pictures
directed by Michael Aguiar
starring John Hardy, Sheyenne Rivers, Gabriel Lee, Fran Rafferty, Jeff Jenkins, Amanda Pierre, Inge Uys, Matt Ganey, Terence Van Auken, Thomas Noel Smith, Haley Mikenas, Anthony Giovanni Elias, Isis Masoud, Manny Dortanieves, Chris Todd, Jade Aguiar, Arisia Aguiar, Alec Perea-Martinez, Trina Christine Mason, Wolfgang von Mertz, Floyd Adams, Liz M. Day, Darin Schurdell, Xavier Rodriguez, Derek Fernando Leavitt, John Poteat, Samantha Murphy, Brent 'Clutch' Gaubatz, Cortney Razi, Miguel AngeloTorres Diaz, Wayne Earle Kinney, Tim Scholes, Shanna Staley, Christine Hitt, Flavia Falquetti, Peter Fritsche, Jason Fusco, Mariah Lynn Roberts, David Lopez, Sarah Katie, Victoria Reyes, Renee McAbee
written by Michael Aguiar, music by Greg Rosetti, Rich Giaimo, special effects by Daniel Mazikowski, Stacia Gaskins

review by
Mike Haberfelner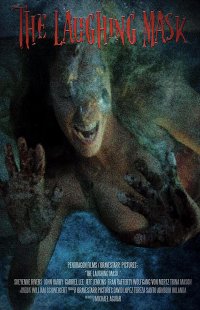 Jake (John Hardy) is distraught and has been ever since a psycho killer known only as the Laughing Mask (Jeff Jenkins) took away (and in all probability murdered) his wife and child - and as the police hasn't found a clue to the killer yet, he has as some kind of catharsis written a book about the case, a book that's partly fictionalized, but at the same time it's sure to put him on the spot and put him high up on the killer's to-do list.
Ltd Cordova (Gabriel Lee) is annoyed to say the least, as he has investigated the Laughing Mask case for month, and now the case is handed to someone else and he's supposed to her assistant. Sure, he hasn't made any progress at all, but still has put a whole lot of work into it, but his new boss is not only going to be a woman, but also Kat O'Malley (Sheyenne Rivers), who's not only a woman but also a colleague he has always been competing with - and he never liked her guts, especially since she seems to be more successful than he is.
The Laughing Mask hasn't been idle since the killing of Jake's family, mind you, he has brutally killed people of both sexes from all drives of life, and finding a connection seems to be impossible for Kat at first ... until she hooks up with Jake, who provides her with the information that all of the Laughing Mask's victims were on the payroll of a local crime syndicate - but investigating in that direction almost gets Kat killed by the Laughing Mask herself, and even though she's saved this time, she soon has to find out she can't trust anybody anymore, and the boundaries between victim and assailant, law and crime, good and veil, are at best very fleeting ...
Now one thing's for sure, The Laughing Mask doesn't hold back, there are some pretty gruesome torture and death scenes in there, and the way one of the dead bodies was made up after death is certainly not to everyone's taste (but gorehounds will love it). That said, the movie's not just a mindless slasher or torture porn, it's actually a pretty multi-layered whodunnit that marries elements of the cop, the mob and Batman-style vigilante genre to horror pretty much seamlessly as it takes an in-depth look at "violence only creates more violence" as such and comes up with answers that might be uncomfortable but fit the movie's story well. And of course, a competent cast and a direction that doesn't turn away from spectacle without making it center stage help to bring the story across rather beautifully!