Hot Picks

- Nox 2019
Samaya Svetlaya Tma

The Lightest Darkness


Russia 2017
produced by
Diana Galimzyanova, Olga Panina (executive), Anastasia Ivanova (executive)
directed by Diana Galimzyanova
starring Rashid Aitouganov, Kolya Neukoelln, Irina Gevorgyan, Marina Voytuk, Vyacheslav Manucharov, Vladimir Morozov, Alexander Rapoport, Tatyana Ukharova, Ksenia Zemmel, Marina Boyko, Anfisa Mukhamedzhanova, Ekaterina Dar, Ed Teppé, Evdokia Kraukhina, Julia Denisova, Anna Zakharina, Tatiana Zakharina, Anastasia Ivanova, Nikita Panichev, Sergey Pekarsky, Salta Kesikbaeva, Alisa Vysotskaya
written by Diana Galimzyanova, music by Ioana Dobroiu

review by
Mike Haberfelner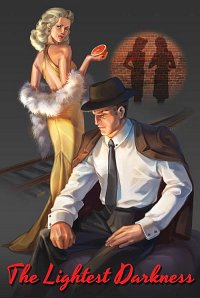 Privae eye Ruslan (Rashid Aitouganov) is struggling to finish the case of a missing woman (Ksenia Zemmel), a case he has become too involved in after falling for and marrying that woman's psychiatrist (Kolya Neukoelln) who's more than just a little involved in the story herself, and in a not very positive way. It has taken Ruslan half a year to get as far as he is now even, but he thinks one last train ride might lead him to the solution. In his compartment, he meets two women, open-minded Elina (Marina Voytuk) and buttoned up video game scriptwriter Arina (Irina Gevorgyan), and as it happens, the three start discussing a killing spree the trainline they're traveling on has become famous if not notorious for, a killing spree that hasn't been resolved yet so at least the killer could be in their midst. Thing is, these two stories have more than a little bit in common ...
The Lightest Darkness is pretty much a film unlike any other, despite the fact that it borrows heavily from film history and especially film noir when it comes to plot elements as well as cinematography (including black and white imagery, camera angles and lighting) and props and costumes. But at the same time it tells a highly original and intentionally far-fetched crime story in a fascinatingly non-linear way that often (but not always) puts effect before cause and finds clever connections between past and present. And as reminiscent the camerawork seems to be of yesteryear, its use really seems fresh and original all the same, as if someone rethought yesterday's cinema another way.
Quite a fascinating movie, and well worth a look!