Hot Picks

Meu Amigo Hindu

My Hindu Friend
My Last Friend


Brazil 2015
produced by
Hector Babenco, Jeremy Thomas (executive), Marcelo Torres (executive) for HB Filmes
directed by Hector Babenco
starring Willem Dafoe, Maria Fernanda Cândido, Bárbara Paz, Selton Mello, Guilherme Weber, Reynaldo Gianecchini, Denise Weinberg, Maitê Proença, Dan Stulbach, Vera Valdez, Stella Schnabel, Phil Miler, Daniela Galli, Dalton Vigh, Clara Choveaux, Rio Adlakha, Michael Wade, Barry Baker, Soren Hellerup, Henry Sobel, Ary Fontoura, Ana Clara Fischer, Tuna Dwek, Ondina Clais, Roney Facchini, Cristina Mutarelli, Fabiana Gugli, Ju Colombo, Hugo Moss, Charles Paraventi, Tania Khalill, Lucia Segall, Matheus Kronemberger, Dionísio Neto, Supla, Aida Leiner, Christine Fernandes, Amanda Sobel, Lilian Blanc, Benjamin Herchcovitch, Paulo Contier, Helder da Rocha, Helena Cerello, Juan Alba, Charly Braun, Gilda Nomacce, Daniella Pinfildi, Berenice Haddad, Marilia Moreira, Jason Bermingham, Otavio Zobaran, Sagar, Luana Tanaka, Guilherme Moares Quintella, Abrao Zweiman, Bim de Verdier, Vinicius Zinn, Lucas Colombo, Dionisio Neto
written by Hector Babenco, music by Zbigniew Preisner

review by
Mike Haberfelner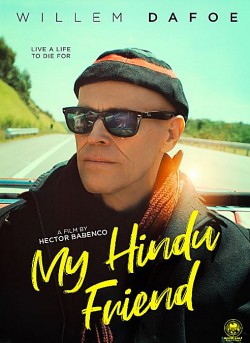 Diego (Willem Dafoe) is a successful Brazilian film director - who's hit with the news that he's to die soon unless he undergoes (less than promising) treatment in the US. So he does what he feels needs to be done and marries his long-term girlfriend Livia (Maria Fernanda Cândido), puts his affairs in order, makes a huge donation to his estranged brother (Guilherme Weber) as he's to receive his bone marrow, and undergoes treatment that's nothing if not painful. And while undergoing treatment, he starts to have weird dreams and visions, including several run-ins with death himself (Selton Mello), who's actually quite a likeable guy and according to himself just a wage slave to a higher order. Diego's life is really hanging on a thread when he meets a young Hindu boy (Rio Adlakha), who's undergoing the same treatment as himself, and having the young one as a brother in pain, he finds hope again, and also strength to pull through just to pull his friend through with him.
Once the treatment takes positive effect, Diego soon becomes a minor celebrity just for being a survivor. But five years pass until he can be declared in good health again, and at the end of this his life seems to be more shattered than ever: Livia leaves him as she's fed up with just taking care of him and not having a life of her own, he can't perform sexually anymore, and he continues to have weird visions, just like when he underwent treatment. And there's no Hindu boy to help him through it all ...
Now nominally, My Hindu Friend is based on a true, autobiographical story - but in the best sort of way, the film doesn't feel like it, as director Babenco (whose last film this turned out to be) welcomely stays away to tell his story as a factual revue but rather uses associative and at times non-linear storytelling to not so much present the audience with the as-is but make the emotional undercurrents palpable and thus to give depth to the on-screen goings-on. Now add to this a very poetic approach to things coulped with beautiful cinematography and Willem Dafoe at the top of his game supported by a very solid cast, and you get a very wonderful and also pretty unusual film that's highly recommended!
My Hindu Friend will have a weeklong theatrical release in the US starting January 17th 2020 (NY, LA, Cleveland, Detroit, Boston, Minneapolis, ATL, Phoenix, Houston, Chicago).