Hot Picks

Not Another Black Movie


USA 2016
produced by
Jay Davis, Donte Williams (executive) for Diesel World Productions, Jay Davis Films
directed by Donte Williams
starring Marilee Pheniece, Damon Williams, Jay Davis, Marlon J. Hull, Ava Veronica, Soroya Smith, Joslyn Robinson, Famo, Lorielle Johnson, Theresa Ashford, Jerome Hollins, Simeon Henderson, Lyssa Laird, Will Cummings III, James Barbee, Janet Hubert, Rodney Perry, Taneshia Rice, Leon Rogers, Tarrey Torae, Calvin Evans, Arianna Lexus, Ray Lipowski, Steven James Price, Kyle Dal Santo, Tiffany J. Curtis, Charles Dunlap, Black Jack Johnson, Adrienne Irmer, Joyce Swolley, Aubry Wood, Ric Shea, J. Ivy, Eddie Alvarado, Joe Blount, Corin Clay, Hadiya Love, Davon Roberts, Theresa A. Moore
written by Jay Davis

review by
Mike Haberfelner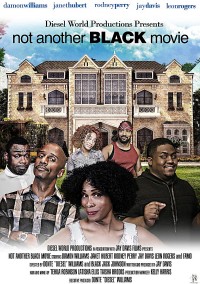 It's another family dinner at Big Momma's (Marilee Pheniece) place, and naturally, all her sons and daughters - Darrell (Damon Williams), Jimmy (Jay Davis), Terry (Marlon J. Hull), Veronica (Ava Veronica), Simone (Soroya Smith), Melanie (Joslyn Robinson) - are invited with their families ... and nobody's particularly looking forward to that, because while they all love Big Momma, they don't like each other even half as much. Actually, to describe them as a dysfunctional family would be an insult to the word "dysfunctional". Then though Big Momma dies during the dinner, and soon enough a lawyer (James Barbee) pops up at the place telling the grieving relatives that Big Momma will inherit a vast fortune to them ... but only if they are all treated by Dr Pullman (Will Cummings III) for their various mental dysfunctions and come together after a certain amount of time as a better family (to be assessed by Dr Pullman of course) - if only one fails, all the money will go to their children ... and there's the big problem, because none of Big Momma's offspring are in particularly happy family and professional situations, Darrell wants to quit his office job to become a standup comedian despite his pregnant wife (Theresa Ashford) threatening to leave him, Jimmy is cheating on his wife (Lorielle Johnson) all the time, so much so that she's demanding a divorce, Terry would love to send his crackhead wife (Lyssa Laird) to hell, if it wasn't for their daughter, Veronica can't accept that her husband (Simeon Henderson) has actually divorced her and now stalks him wherever she can, Simone just gets a kick out of beating her softie husband (Jerome Hollins) to a regular pulp rather than just getting a punching bag, and Melanie is a professional criminal who hardly ever turns up without a fresh shot wound on her ... so there's much to do for Dr Pullman, and while the siblings are all willing for the sake of the money, it's less than sure that they're actually ready as well ...
Well, the movie's title might already give you a clue what it is a parody of, and it takes aim rather at the feelgood comedy side of the genre than the blaxploitation variety - which I freely admit is a genre I'm not too familiar with. That said, Not Another Black Movie does actually work on its own merits, it tells its rather silly and far fetched story with the right level of self-confidence (and the extremely far-fetched resolution of the film is actually utter hilarity), but does so with surprisingly likeable and relatable characters, while the movie as such, besides some crude humour and gross-out jokes, finds quite the right level of (self-)irony to not lose the interest of the casual viewer.
Basically, it's just good fun, actually.