Hot Picks

- Nox 2019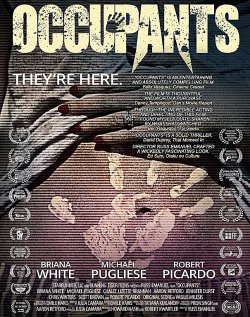 Annie (Briana White) is a documentary filmmaker who one day decides she and her husband Neil (Michael Pugliese) ought to go on a raw vegan diet with cameras placed all over the house to document the effects. In a throwaway comment she says there are new age theories that a raw vegan diet might open the door to another dimension ... but then, when playing back the videos she has taken, she sees that exactly that is happening, that the videos show the life of themselves ... but not themselves: They are them, but lead different lives, have different jobs, dress differently, have different hairstyles ... and their marriage seems on the brink, quite the opposite of this dimension's Annie and Neil. Then Annie 2 announces she's pregnant, and Neil 2 feigns enthusiasm ... but then drugs Annie 2 so she has a miscarriage, which leaves her heartbroken. This world's Annie has by now found a tiny door to the other dimension as well, only big enough to pass small objects through, so she sends over a small printout of the photo of Neil 2's drugging her. So Annie 2 plans her revenge on her husband ... but she also wants to get back at Annie 1 and Neil 1 for watching her and Neil 2's every step, and soon finds a way to do so ...
Fan favourite Robert Picardo plays a specialist for the paranormal whom Annie calls occasionally.
Now granted, the premise of Occupants is slightly ridiculous, even for a genre movie - but a cleverly built up story really gets the most of it and makes the on-screen goings-on really creepy, too. Plus the found footage approach makes narrative sense for a change as this is where the very threat emmanates from, and fortunately, the direction manages to keep things interesting with the approach's rather limited means. And add to that a strong cast, and you've got yourself a pretty cool movie.