Hot Picks

- Joe 2018
Pazúcus: A Ilha do Desarrego

Pazucus: Island of Vomit and Despair


Brazil 2017
produced by
Gurcius Gewdner, Garganta Silva, Cavi Borges, Lígia Marina, Hector B., Marcel Mars, Sune Rolf Jensen (executive), Flávio C. von Sperling (executive), Alexandre Brunoro (executive), Teresa Siewerdt (executive), Jw Kielwagen (executive), Aristides Rudnick (executive), Aishá Kanda (executive), Mini Mulamba (executive), Zimmer (executive) for Bulhorgia Producoes
directed by Gurcius Gewdner
starring Marcel Mars, Priscilla Menezes, Gurcius Gewdner, Marcius Lindner, Lígia Marina, Lara Albrecht, Amexa, Hector B., Everson Antunes, Ljana Carrion, Galori Fernandes, Scott Gabbey, Hardgar Garcia, Eloah Haole, Cláudia Borba, Magnum Borini, Hector B. Bragga, Carlos Dias, Garganta Silva, Andreza Gomes, Simon Ju, Maiara P., Milosko Siesty, Julia Simon, Mariana Ungaretti, Daniel Villaverde, Flávio C. Von Sperling
written by Gurcius Gewdner, music by Lucas Rossetti, Anna White, Excria Reverbera, Buraco Negro, Petter Gossweiller, Pontogor & Marcel, Rakta

review by
Mike Haberfelner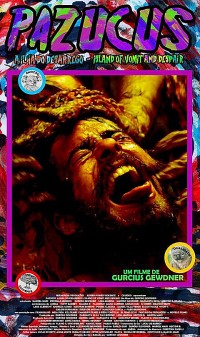 Carlos (Marcel Mars) is driven into despair as he hears voices in his head that predict doom, and make him puke pretty much constantly. His doctor (Marcel Mars again) is of little assistance, as all he does is to lure him to the titular island of vomit and despair, Pazucus. But secretly the doctor also wants to kill him - and has frequent attacks of insanity that make him kill ... just whoever it is really. He also has sent two other people to Pazucus, lovers Omar (Gurcius Gewdner) and Oréstia (Priscilla Menezes), whom he forces to camp there for the rest of their lives - and they soon run into troubles of the weird sort.
Now what really complicates the matter is that the voices in Carlos's head are really monsters from another dimension who want to enter our world through his head. But it might be that that's only what the voices tell Carlos, and maybe his doctor and Omar and Oréstia are also only manifestations of his madness - but whichever's the truth, the result can only be utter chaos ...
Pretty much a continuation from director Gurcius Gewdner's earlier film Good Morning Carlos, Pazucus: Island of Vomit and Despair shares that movie's characters of Carlos and the doctor and its predilection for puking, but takes its nonsensical and utter insane approach to storytelling even further. As a result, this movie has little relation to reality, and to really dig into its absurd and surreal story full of bodily fluids, gross-out scenes but also weird references to monster movies, 80s pop music and the like, one really has to abandon both reason and "good" taste at the door - so in a word, the film is not for everyone and needs an open mind and also a good stomach - but if you can muster these, you'll probably be able to find quite a bit to like and laugh about here ...