Hot Picks

Phase Three


UK 2012
produced by
Mark Tristan Eccles, Jamie McEvoy for Epicam Productions
directed by Jamie McEvoy
starring Mwansa Bwalya, Ian M. Wilson, Steve Tuck, Jade Hespin, Eirian Cohen, Mark Tristan Eccles, Keiran Thompson, Michael Gartlan, Phillip Richardson
written by Jamie McEvoy, music by Steve Lemaire


featurette

review by
Mike Haberfelner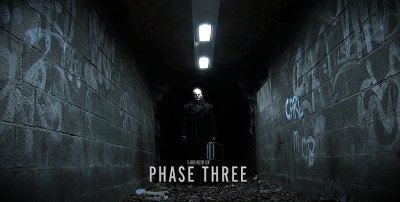 Denzel (Mwansa Bwalya) is just a small time crook, making a meagre living from drugg peddling and hte occasional cellphone theft ... until one day, a guy with a posh suit with a watch more expensive than his apartment walks through his "dangerous" hood. Of course, Denzel wants to rob him blind, but suddenly he finds himself in the crosshair of a sharpshooter, because you see, the man is Lucius Foy (Ian M. Wilson), and he is ... recruiting people for his business. Denzel is to be a new addition to his staff it seems, but first he has to fulfill a simple task - be somewhere at a given time and do as told. At the appointed spot though, Denzel is given a gun and told to kill a hooded man - and by now, Denzel should have run like hell, but he picks up the gun, pulls the trigger and ... nothing. The man removes his hood and it's Lucius who tells Denzel he has just passed phase two of his job qualification program and shown that he is indeed able to kill somebody. So Lucius lets him in on the specifics of his operation: Denzel is to assassinate all sorts of high profile (in other words rich) crooks so they can be buried on Lucius' high profile (in other words expensive) graveyard. Brilliant business idea, right? Again, Denzel should run like hell, but he doesn't.
6 months pass, and Denzel lives a carefree life on a good salary provided by Lucius, but he doesn't hear a sound from him or his organisation ... until he receives his first assignment (rather out of the blue): To kill Lucius. Denzel is torn between loyalty to Lucius or loyalty to his company. Of course, he once again should run like hell, but doesn't. Instead he ambushes Lucius at the appointed time to kill him ... but he finds him well prepared, and soon the two of them start to play a game of cat-and-mouse with Lucius transforming more and more into the cat ...
Click here to open the Spoiler Pop-up!
Phase Three is a fun featurette (roughly 50 minutes in length) that manages to keep the audience guessing for most of its running time before culminating in a explosive finale and a macabre punchline. Add to this a very subtle directorial job by Jamie McEvoy, suitably spartan and almost cold sets, and of course two great central performances, and you've got yourself a pretty good movie!