Hot Picks

- Nox 2019
Red Room


Ireland 2017
produced by
Marc Hughes, Stephen Gaffney (co) for Deep Web Films, Sicario Pictures
directed by Stephen Gaffney
starring Amy Kelly, Sohaila Lindheim, Saoirse Doyle, John Dalessandro, Jp Albuquerque, Rodrigo Ternevoy, Eddie Jackson, Brian Fortune, Fionna Hewitt-Twamley, Alan Sherlock, Tania Notaro, Martin O'Sullivan, Eoin Quinn, Roisin Whelan, Aisling O'Neill, Sharon Skerritt, Collie Collins, Jamie Gaffney, Michelle Audrey, Cristina Ryan, Aaron Blake O'Connell, Justine O'Rourke, Sean Cassidy, Joe Dermody, David Doggett
story by Stephen Gaffney, screenplay by Stephen Gaffney, Erica Keegan, music by Damien Walsh, special effects by Debbie McKibbin, visual effects by Eric Gaffney

review by
Mike Haberfelner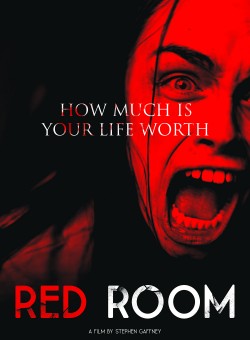 Going home from celebrating one Saturday night, young Kyra (Amy Kelly) is snatched off the street, thrown into a van, knocked out ... and eventually she finds herself in a dark room, with two other girls, Lily (Sohaila Lindheim) and Alison (Saoirse Doyle) who apparently share her fate - whatever their fate is, because none of the girls know, all they do know is they're being held by some ruffians whose intentions are less than friendly. At one point, the girls try to escape through the window ... only to land on a bed of nails - ouch!
Now the house the girls are being held at belongs to Dad (Brian Fortune) and Mam (Fionna Hewitt-Twamley), who need the girls to appear in shows on the dark web - where they are to be tortured, cut up and dismembered while still alive. Dad and Mam apparently know enough sickos who are willing to pay big bucks for that to make a good living. The downside to this though is that the day-to-day business of their organisation is run by their blundering sun Richard (John Dalessandro), who has a talent to mess things up, and their webmaster Matthew (Eddie Jackson) is a captive who's there against his will just like the girls. And especially Kyra isn't one to go down easily, so the girls plan to put up a fight for their lives - but of course, they're tied up and outnumbered, so it might not be all that likely that they come out on top ...
Now Red Room is certainly not a film for those faint at heart, as it doesn't exactly shy away from going explicit every once in a while - but then again, I would refrain from labelling the movie torture porn (even if that's exactly what it's about), as while the film's properly gruesome in all the right places, it's at the same time social commentary and suspenseful thriller entertainment - and there are even some darkly comical bits hidden in all of this, if that's your thing. Still, not a film for everybody, but rather enjoyable even for people who prefer story to gore.