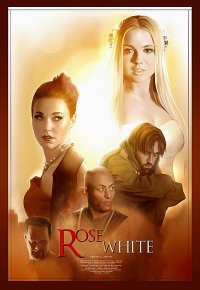 Available on DVD !
To buy, click on link(s) below and help keep this site afloat
Always make sure of DVD-compatibility !!!

A mother (Valerie Meachum) has two children, red-lipped Rosalyn (Erin Breen) and fair haired Lilly (Deneen Melody), the former too much of a cynic for her own good, the latter a hopeless dreamer - and yet they have promised each other to always stay together ...
When momma dies, Lilly drifts off into a fairytale world full of enchanted forests and talking animals, and her condition gets so out of hand the police has to intervene repeatedly, and she is threatened with being sent to a home. Rosalyn meanwhile has taken it upon herself to take care of the both of them - and has become a prostitute. Still the money she makes hardly covers the bills ...
Then one day, Bear (Dan Kuhlman), a small-fry gangster on the run, knocks on their door. Rosalyn refuses to let him in, but behind her back, Lilly, who talks Bear for a talking animal, gives him abode for the night. As a token of appreciation, Bear offers Rosalyn a deal that sounds like easy money, but ...
A hauntingly beautiful little (as in 30 minutes) film, Rose White achieves the almost impossible and successfully blends the gritty realism of a crime drama with the darkly romantic atmosphere of a fairy tale to great effect (and on a budget, too). That's thanks to a directorial effort that keeps things subtle for the most part but doesn't shy away from pure kitsch if needed, and that favours atmosphere over spectacle, a wonderfully old-fashioned musical score, and of course an uniformly great cast.
Recommended!
By the way, part of Hillbilly Horror Show - Episode 2.