Hot Picks

The Runners


USA 2020
produced by
Joey Loomis, Micah Lyons, Katie Schmidt, Neal McCoy (executive), Chris Routhe (executive), Terry D. Pope (executive), Scott Collins (executive), Joshua Harger (executive) for Breath of Life Productions
directed by Joey Loomis, Micah Lyons
starring Micah Lyons, Netty Leach, Joey Loomis, Neal McCoy, Tom Sizemore, Jason Peter Kennedy, Rhonda Morman, Swayde McCoy, Brooke Lyons, Steve Dodge, Paiton Little, Raymond Tostado, Eric Hanson, David Bruhn, David D. Ford, Stephanie Rhodes, Alyssa Flanagan, Regina Money, Laura Nevils, Carl Bailey, Joshua Passmore, Mike Maloy, Blake Altman, Rob Carbo, Alison Paige Patterson, Casey Williams, David Plunk, Winn King, Marcus Torgerson
written by Micah Lyons, music by Erick Schroder

review by
Mike Haberfelner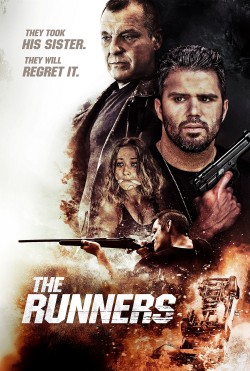 Ever since the death of their parents (David D. Ford, Stephanie Rhodes), Ryan (Micah Lyons) has been taking care of his younger sister Zoe (Netty Leach) - but she's 17 now, and like most kids her age, she's discovering her rebellious streak, and she's driving her brother up the walls, which in turn only goads her on even more. Then after a party, she just fails to return home, and searching the whole town, Ryan can't find a trace of her. Only her boyfriend Michael (Swayde McCoy) has at least a clue, so Ryan grabs Michael, and before you know it, the two find Zoe and two other girls (Brooke Lyons, Paiton Little) tied up in the back room of a strip club - and are promptly knocked out ...
Thing is, Zoe has fallen prey to a gang of human traffickers led by Marty Hicks (Joey Loomis), a violent and trigger happy bunch who are more than happy to whore the girls out while driving them to their final destination. Somehow though, Zoe has managed to grab hold of her telephone, and she texts her brother her whereabouts.
Ryan meanwhile has come to and together with his best friend Kooter (Jason Peter Kennedy), he decides to free Zoe in a commando-style mission. Thing is though, Marty has since gotten hold of Zoe's phone and leads Ryan and Kooter into an ambush.
In the meantime, Michael, who was opposed to Ryan's approach to saving Zoe but has promised not to call the police, consults the local pastor (Tom Sizemore) for advice what to do ...
One simply can't deny that The Runners' build-up is just great, really, as it's pretty much a textbook example of how to set up a story then mount excitement throughout until the explosive finale. That though isn't at all to say this is just a cookie cutter movie, rather it's a very cool action flick, but one with a story that's more than just a hanger for shoot-outs and fight scenes - but there are plenty of those as well, and they're pretty well executed, too. And while one can't completely overlook the fact that this was done on a modest budget, the sheer amount of excitement this movie has to offer more than makes up for this. A very entertaining genre piece, actually.