Hot Picks

- 7x7 2023
Rusty Blade


China 2022
produced by
Song Xiaobai, Marguerite Henry, Guo Jiarui, Chang Bin, Sun Zhonguai (executive), Yu Shunghua (executive) for Tencent Pictures
directed by Sun Huyi, Song Xiaobai
starring Su Zhenhua, Liu Chuxuan, Xiao Cong, Wang Cheng, Mohetaer, Liang Tingwei, Xuan Cheng, Zhao Zhonghua, Yang Lixiao, Zhu Yuran, Wang Zhao, Song Moyan, Zhou Wentoa, Huang Menglong, Song Xiaobai, Ding Jiantao, Guo Mingxuan, Long Yili, Ma Liting, Liu Mei, Zhang Haosong, Wu Zheyu
written by Sun Huyi, music by Pancho Burgos-Goizueta, stunt coordinator: Zhou Shengxi

review by
Mike Haberfelner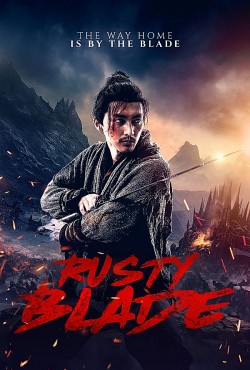 For years, Da-Wei (Su Zhenhua) has roamed the country as a bounty hunter, and over time he has earned himself the reputation of being the best swordsman out there. But then he found a lovely wife (Wan-Yu), settled down and started a family, and since he hasn't learned anything other than swordsplay, he has accepted a lowly paid job with the magistrate, and struggles to make ends meet under normal circumstances. But now Wan-Yu has fallen ill, and he has hardly enough money for food and medicine, and thus lets his brother-in-law Lu (Xiao Cong) talk him into taking part in a raid on local crime boss Jin (Mohetaer) - during which he accidently kills Jin's wife (Long Yili) while Lu stabs Jin but as it turns out later fails to kill him. Later, and behing his back, Lu presents Da-Wei to the magistrate as the fall guy for the raid while taking over Jin's business. Da-Wei is sent into exile, but Lu sends an assassin, Qian (Wang Cheng), after him to kill him. Now Da-Wei has spared Qian's life in a duel once, and thus, seeing Da-Wei in chains Qian figures it's hardly a fair rematch and spares his life in return, swearing to duel and kill him should Da-Wei ever pick up a sword again ...
Ten years later: Jin has spent the years in prison but is now pardoned by the emperor and is of course hell-bent to get his business back and his revenge on all those who have wronged him. And he hires Qian as his executioner. Hearing these news, Da-Wei hurries home to protect his wife, figuring Jin might exact revenge by killing her. Lu, wisely concealing that it was he who has been responsible for Da-Wei's exile, begs Da-Wei to fight on his side, but Da-Wei refuses to pick up hiw sword again, as he doesn't want to be responsible for any more bloodshed. However, things go South pretty quickly, and the bodies start to pile up everywhere so that even Da-Wei is left with only one choice, fight or perish ...
A pretty unusual martial arts movie of the swordsplay variety, as this one doesn't so much relie on spectacle and action gone overboard but wraps its fight scenes - and there are many of them - into a story that reads more like a parable than your typical heroic narrative, with especially the film's protagonist facing moral dilemma after moral dilemma stemming from past misdeeds. That said, the action's still very nicely staged but pretty down-to-earth - owed perhaps to the film's not too overblown budget, but this down-to-earthness befits the story very well and helps make this a really cool genre trip.