Hot Picks

Save Yourself


Canada 2015
produced by
Emma Jean Sutherland, Jessica Cameron, Pino Halili (executive), Allen Ormerod (executive) for Save Yourself Productions, Blackguardism Creations, Post City Films
directed by Ryan M. Andrews
starring Jessica Cameron, Tristan Risk, Tianna Nori, Ry Barrett, Sydney Kondruss, Lara Mrkoci, Elma Begovic, Caleigh Le Grand, Marcus Haccius, Bea Santos, Bobbie Phillips, Margaret Jeronimo, Mike Donis, Victoria Lord, Cailey Muise, Christian Burgess, Tyler Simpson, Glenn Hicks, Emma Jean Sutherland, Chris Cull, Ryan M. Andrews
story by Ryan M. Andrews, Chris Cull, screenplay by Ryan M. Andrews, Mitch Lackie, music by Steph Copeland, special makeup effects by Carlos Henriques/The Butcher Shop

review by
Mike Haberfelner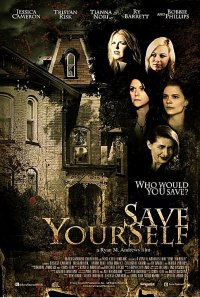 Kim (Jessica Cameron), Crystal (Tristan Risk), Sasha (Tianna Nori), Dawn (Lara Mkoci) and Lizzy (Caleigh Le Grand) have just premiered their latest horror flick at a local filmfest, and have been fending off fans that got a bit too close and personal at times ... and now they're on the road overnight to LA for a big filmfest. And then, Crystal goes for a smoke and doesn't come back. The other girls only slowly grasp the situation, having been mostly asleep or almost asleep anyhow when Crystal stepped out, and eventually they decide to go look for her - all but Sasha who stays in the car on the odd chance that Crystal will come back. Eventually the girls pass a farmhouse and decide to try their luck to find a phone (there's of course no cellphone reception), and while the lady of the house (Elma Begovic) wants to chase them away, her husband Chris (Ry Barrett) is more than happy to invite them in ... and before the girls know it, they end up in the couple's basement, as specimens for their unnamable experiments.
Sasha goes after her friends, and once she has found out what has happened (or is still happening) to them, she tries her best to save them, but she soon shares the same fate with her fellow filmmakers - and now their best chance is Heather (Sydney Kondruss), a girl who has been abducted years ago and knows everything about her tormentors and the place they're in ... but she's also pretty far gone already, and it stands to reason if trusting her and trusting her sanity isn't a contradiction in terms ...
Save Yourself is one creepy little horror flick - not so much because of its premise which is totally solid but not exactly novel, but because of its directorial approach that does not zoom in on the spectacle to make this a torture porn gorefest but favours atmosphere over everything else, giving the whole thing an eeriness that goes much deeper than just showing the red stuff, and it gives its central characters emotional depth not always found in genre movies - which is of course only helped by a great ensemble cast. And add to that some twists and turns not usually found in your typical genre flick after all, coupled with some great camerawork making perfect use of the locations at hand, and you've got yourself a pretty intense, close to nightmarish experience!
Screener courtesy of the Blood in the Snow Canadian Film Festival, November 27th - 29th 2015, Carlton Cinemas, Toronto, ON - http://www.bloodinthesnow.ca/