Hot Picks

Scary Little Fuckers (A Christmas Movie)


USA 2015
produced by
Nathan Suher, Richard Griffin for IM Filmworks
directed by Nathan Suher
starring Josh Fontaine, Anna Rizzo, Rich Tretheway, Monica Saviolakis, Geoff White, Mary C. Ferrara, Mark Carter (voice), Diane M. Martin, Pete Yagmin, Ted Zlatanov, Elena Zlatanov, Sissy O'Hara, Amy Lord, Jen Davis
written by Lenny Schwartz, music by Timothy Fife, special makeup effects by Margaret Wolf, cinematography by J. Poisson


short

review by
Mike Haberfelner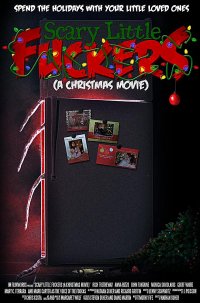 Saul (Rich Tretheway) has never been a great father to Kyle (Josh Fontaine), but it's not for the lack of trying - it's just, Saul is an alcoholic, Kyle blames him for the suicide of his mum, plus Kyle's 15 right now, the perfect age to hate one's parents anyways. So to make up with his son, Saul decides to give him two fookers for Cristmas, an extremely rare breed of small animals who are kept in separate cages, because once they procreate, all hell breaks loose. One can't claim Kyle isn't at least impressed, and neither is his girlfriend Peggy (Anna Rizzo) - so before long she has persuaded him to get them together in one cage, in exchange for him touching her boobs (they're still only 15, so touching boobs means a lot) ... and once they procreate, they immediately have tons of offspring - and what's worse, they're all pretty much little flesh-eating monsters. And now Kyle, Peggy and dad Saul have to stick together to get rid of these creatures - though that's easier said than done, as there are still plenty of unresolved issues between Kyle and dad, and the fact that Peggy and Saul start to have something going doesn't make things any easier ...
Of course, there wouldn't be a Scary Little Fuckers without The Gremlins, the premise is just too similar (as you've no doubt been able to tell) - but to just dismiss this movie as derivative would be totally wrong, as it stands on its own, is wild and dirty, has its moments that are just totally wrong, dares to be hilarious in all the wrong places, plus the monsters in all their Muppet-like simplicity crossed with Star Trek's Tribbles are just a treat.
In all, really good holiday entertainment, actually.