Hot Picks

- Yes 2019
- Abi 2019
Seeds


USA 2020
produced by
Anna Chinappi, Christopher Di Nunzio, Skip Shea, Kip Weeks for 4th Street Productions
directed by Skip Shea
starring Emma MacKenzie, Patrick Bracken, Kip Weeks, Rick Johnston, Nicole Watson, Demetri Kasperson, Aurora Grabill, Bella Medeiros, Skip Shea, Barbara Magnolfi, Anthony Ambrosino, William Bolster, Sean Carmichael, Denise Cascione, Jamie Crowley, Christie Devine, David Graziano, Vincent Hemmeter, Eric Linter, Dynamo Marz, Maria Mogavero, Pamela Ruby Russell, Gregory Velez, Christopher Howard, Lynne Turner, Talia Cataldo, Anthony Bridgeford, Stephanie Wiley, Molly Sullivan, Glen Stoddard, Kayla Richer-Jablonski, Phil 'Skippy' Adams, Kiera Gruttadauria, Capri Lanning-Cafaro, Christopher G. Lawton, Jamal Mufti, Sissy O'Hara
written by Skip Shea, music by Shootie HG

review by
Mike Haberfelner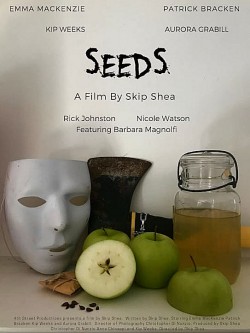 Andrew (Patrick Bracken), a professor, lecturer and expert on ancient cults, learns that his uncle has died and has left him ... something - which very much surprises him as he didn't know he even had any uncles at all. However, he's intrigued that his uncle seems to have had ties to one of the cults he lectures about but only knows from the books, not first hand experience, so she agrees whole-heartedly when Barbara (Barbara Magnolfi), a friend of his uncle, asks him to take a trip to the uncle's far-out hometown that can only be reached via ferry and that was a perfect, isolated breeding ground for a cult like uncle's. Barbara also asks Andrew to take some seeds to the village and hand them to "someone who's worthy" - whatever that may mean. Andrew's wife Macha (Emma MacKenzie) is dead-set against it, having premonitions about the place, but he just takes them for psychotic episode Macha's suffering from and goes anyhow - to once there being dragged into a weird world of odd rituals, some quite bloody.
Macha meanwhile decides to visit Andrew's family in an effort to follow her husband, to learn that they know quite a bit about what's happening in uncle's hometown, and some of it is quite disquieting. Furthermore they think that she's not psychotic at all but has some psychic powers and thus send her to the village via a secret backroute to look after him - but it's in the village that Macha finds her true calling - and it's not what one might expect.
A related subplot concerns a cardinal (Kip Weeks) and a Bank of Vatican banker (Rick Johnston) sending a rogue priest (David Graziano) to the very same village - but their motives aren't entirely benign to say the least ...
Now in its main topic of an archaic cult flourishing within modern civilisation, Seeds isn't entirely unlike the classic (original) The Wicker Man, and it also favours a gradual build-up heavy on otherworldly mood over instant spectacle - but having adresses the elephant in the room, Seeds is hardly a copycat, as it comes into its own not only through its eerily beautiful cinematic language, where next to every frame could work as a perfect still, but also its labarynthine structure that self-confidently leaves much of the goings-on open to interpretation while still telling a nicely structured and thought-through story, carried by a very solid ensemble cast, all of which make this a rather fascinating dark mystery.