Hot Picks

- X 2019
Wu Sha

Sheep Without a Shepherd


China 2019
produced by
Cary Cheng, Huang Bin, Jerry Zhang, Zhiang Huaquan, Yang Ziwei, Michelle Yeh (executive), Pi Pi (executive), Yang Youcai (executive), Xiong Shanshan (executive), Liu Qiongfang (executive), Li Lu (executive), Ma Hong (executive), Crystal Zhang (executive), Zong xiaoyan (executive), Xu Chuantong (executive), You Tian (executive), Shao Lili (executive), Cecil Yang (executive), Jia Lu (executive), Grace Song (executive), Fu Ruoqing (executive), Chen Jie (executive), Jiang Xiaoping (executive), Li Shaohua (executive), Chen Sicheng (executive) for Fujian Hengye Pictures, Wanda Media, China Film, Perfect Sky Pictures, Jiangsu Omnijoi Movie Co., Beijing Enlight Pictures, Shanghai Tao Piao Piao Movie&TV Culture Co., Shanghai Yitong Porductions
directed by Sam Quah
starring Xiao Yang, Tan Zhuo, Joan Chen, Philip Keung, Audrey Hui, Bian Tianyang (as Beety), Zhang Xiran, Paul Chun, Jerry Chih-Wei Huang, Shih Ming-Shuai, Julian Chen, Gu Yang, Zhang Yu, [Chen Guanhua, Sun Kaifeng, Yo Liu, Zeng Ziru
screenplay by Fan Kaihua, Lei Sheng, Peng Li, Qin Yuqian, Yang Weiwei, Zhai Pei, based on the film Drishyam by Jeethu Joseph

review by
Mike Haberfelner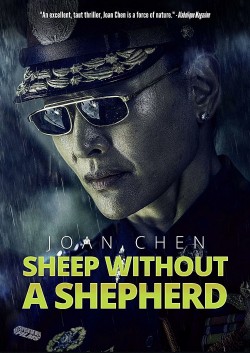 Electrician Li Weijie (Xiao Yang) doesn't need much to be happy, he has a family he loves, is well-liked in his community, and as long as he, a crime movie addict, has enough movies to watch in his evenings, he's perfectly content. Sure, his daughter Ping Ping (Audrey Hui) has just hit puberty and thus is not on good talking terms with him, but that's something that will pass ...
And then, Ping Ping is drugged and raped at a school camp, and while she doesn't even fully remember the incident, her rapist Su Cha (Beety) does, and he has even recorded the whole thing - and now he threatens to put it on the net should she refuse to do him sexual favours. Ping Ping confesses the whole thing to her mom A Yu (Tan Zhuo), and she confronts Su Cha and threatens him, which ends in a physical confrontation that only comes to an end when Ping Ping beats him over the head with a shovel ... and accidently kills him. Now this was of course in no way premedidated and objectively she would very probably be found not guilty in a court of law - if it wasn't for the fact that Su Chan was the son of La Wen (Joan Chen), the feared local chief of police, and Du Peng (Philip Keung), a powerful politician on his way to become mayor, and their combined power is enough to destroy the whole family's lives. So Li Weijie hides the body, drives Su Chan's car into a far-out lake, destroys his cellphone, and then he creates a water-tight alibi for his whole family, and trains them, even little An An (Zhang Xiran), until they get their stories aligned. And he seems to have thought of everything, as even though a hot-headed local cop (Shih Ming-Shuai) has seen him drive away Su Chan's car, Li Weijie can come up with receipts and witnesses proving he was on a family trip. So everybody in their right mind would let Li Weijie and his family off the hook, simply for lack of motive and perfect alibis - but not La Wen, whose mind might be clouded by worries about her son, but she's also a brilliant police detective, and she just knows Li Weijie and his family have something to hide, and leaves no stone unturned, inching closer to the truth little by little. And as she does, Li Weijie is slowly running out of aces up his sleeve ...
Now I'll freely admit I haven't seen the Malayalam 2014 hit movie Drishyam from India which Sheep Without a Shepherd is based on yet, so I can't say how faithful to/derivative of its source material this film is, but taken by its own merits, Sheep Without a Shepherd does a pretty wonderful job combining thriller elements with social commentary and making the over-constructed ruse at the center of the film perfectly palpable for audiences thanks to the down-to-earth portrayals of its protagonists, who one can't help but rooting for despite their actions, only helped by their actors' grounded performances. And Joan Chen as the main "villain" of the piece does a great job navigating her character between admirably brilliant and plain despicable and lets one feel the cracks in her facade. It's only the ending that lets the film down a bit as it tries a little to hard to "do the right thing" that drags the film down a bit, but up until there it's really a fascinating piece of cinema that despite adhering to all the rules in place manages to transcend genre filmmaking in a very entertaining yet thought-provoking way.