Hot Picks

She Rises


USA 2017
produced by
Danielle Artigo, Barry Alexander, Michael Biehn (executive), Jennifer Blanc-Biehn (executive), Lony Ruhmann (executive) for Blanc/Biehn Productions, Three Little Birds Productions, Small Red Star Productions
directed by Larry Wade Carrell
starring Angus Macfadyen, Jennifer Blanc-Biehn, Daisy McCrackin, Michael Biehn, Danielle Artigo, Hallie Jordan, Mike Skillsky, Danny Wooten, Nicholas Redfud, Jason Aaron Moran, Kunle Bagaot, Tucker Rhodes, Larry Wade Carrell, Randy Chance, Jenise Blanc, Lorraine Ziff, Jay Lobit, Christopher Jiminez, Alyssa Lobit, Nick W. Nicholson, Lorraine Ziff, Pete Petitti, Dylan Matlock, Jason Dailing, Jennifer Acres, Ed Sunga, Barry Alexander
story by Lony Ruhmann, Kevin Marcus, Bradley Marcus, screenplay by Angus Macfadyen, music by Randy Chance

review by
Mike Haberfelner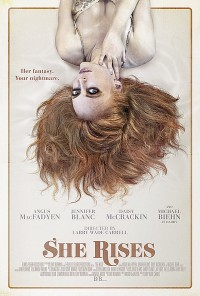 Director Kat (Jennifer Blanc-Biehn) and hammy actor Conor (Angus Macfadyen) are on their way home from a shoot - and while it's not exactly certain whether they like one another, they seem to be positively made for one another, they're both full of themselves, without scruples, slightly on the sleazy side, and despite all the bickering they let each other's mistakes slip without blinking an eyelid. But then they get lost in the middle of nowhere, and when they ask for direction at a farmhouse, they soon become intrigued by Rosebud (Daisy McCrackin), the innocent farmgirl who runs the place, and try to seduce her in purest Hollywood manner - in front of a camera and while promising her a role. But then her dad Daddy Longlegs (Michael Biehn) captures them, and while he doesn't do much more than to stare menacingly - which is only underlined by his wild appearance - he freaks them out while Rosebud seems to be rather unfazed by the appearance of the old man. But when Kat and Conor try to beat it, their car won't start, and they find themselves forced to spend the night at Rosebud's - and are soon dragged into an increasingly weird world where nothing is real anymore, where everything is accentuated with outbreaks of sex and/or violence, and where they even lose control of their own feelings - feelings they didn't even know they had in the first place. And the one thing the worlds they seem to drift through have in common is that Rosebud's in the center of all of them ...
Now She Rises is most certainly a rather unique piece of film as it doesn't give a fuck about genre conventions and rather moves through comedy, drama, thriller, horror, supernatural, even erotica - and of course back again - in total free fall, all the time following the logic of a nightmare rather than anything else ... and the result is a very enjoyable mindfuck of a movie, that falls together where other films would fall apart thanks to a strong cast and a very coherent directorial effort - and thanks to a script that remains well-structured despite all the surrealism involved and the utter surprises thrown at the audience.
Well worth a watch for sure!