Hot Picks

Ya Ne Splyu

Sleepless Beauty
I'm Not Asleep


Russia 2020
produced by
Georgiy Smirnov, Elena Talyanskaya, Frank Ellrich, Evgeniya Mustafina (executive) for Monomania Films
directed by Pavel Khvaleev
starring Polina Davydova, Evgeniy Gagarin, Andrey Tereshenko, Sergey Topkov, Veronika Blockhina, Aleksandr Zilberkant, Alevtina Scherbakova, Viktor Aleshko, Roman Beagon, Yuriy Gulyaev, Raisa Smirnova, Sergey Blockhin, Polina Lopatina, Svetlana Antonova, Elena Gagarina, Alisa Gagarina (voice), Sergey Shegolsky, Anna Belova, Vera Grigorieva, Svetlana Malkina, Igor Preobrazhenskiy, Irog Avrov, Julia Trareva
written by Aleksandra Khvaleeva, music by Erase Me

review by
Mike Haberfelner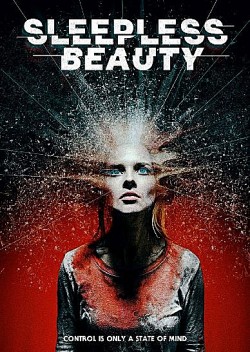 Out of the blue, Mila (Polina Davydova), an inconspicuous English teacher, is kidnapped, thrown into a large but barren room, and tortured, both mentally and physically, by a voice from a loudspeaker on one hand, and a black-masked man (Evgeniy Gagarin) on the other. Her objective here seems, she has to fulfill certain tasks every day to remain alive, and she mustn't, under any circumstances, sleep. The tasks range from the ordinary (like finding the right key to unlock a box in a certain amount of time) to the gruesome (like being trapped in a box with three hungry rats) to the inhuman (like answering a question in a quiz correctly for someone else to die before her very eyes), while freedom's always dangling in front of her, just out of reach.
But why all this? At first it looks like nothing but a perverted piece of live entertainment for degenerates on the dark web who throw mean comments at her in the chat during the live broadcast of her ordeal, but it eventually becomes clear that something much more sinister is at work, something that involves brain-washing via sleep deprivation, VR and a bit of advanced surgery ...
Now Sleepless Beauty is definitely a film that will remain on your mind for a few days after watching, and not exactly in a soothing way, as the film's disturbing and mean and weird - and all of this is meant as an utter compliment. Now sure, the premise of the film is more than a little reminiscent of Saw, but while that movie moves safely within genre boundaries, Sleepless Beauty leaves the safety of a formula behind the longer it goes and starts to show more and more of a subversive edge. And the direction really gives the film's story to grow naturally rather than just focussing on effects, while Polina Daydova delivers a very convincing performance as a woman slowly breaking under the weight of what's thrown at her. And the animated sequences from Mila's VR journey sure deserve special mention, something like a perverted version of the animation Terry Gilliam did for Monty Python.