Hot Picks

The Song of Sway Lake


USA 2017
produced by
Michael Bederman, Zak Kilberg, Allison Rose Carter, Ari Gold, Anne Bernstein (executive), Garrett P. Fennelly (executive) for Grack Films, Act Zero Films, Social Construct
directed by Ari Gold
starring Rory Culkin, Robert Sheehan, Isabelle McNally, Elizabeth Peña, Mary Beth Peil, Jack Falahee, Anna Shields, Jason Brill, Brian Dennehy (voice), Zak Kilberg, Jamel King, Olivia Mogul, Gretel Wilson, Bob Foley, Anne Vaccaro, Cynthia Mandel, Kasey Kenyon, Robert Forgett, Keith Mueller, John W. Bard, Karen Lordi-Kirkham, Paul H. Roalsvig, Gary Arzberger
written by Ari Gold, Elizabeth Bull, music by Ethan Gold, songs by John Grant, The Staves

review by
Mike Haberfelner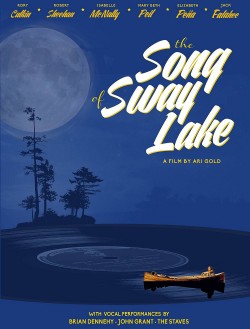 The Sways were once the most prominent family in the small town, and the richest, so rich that they owned the lake which was thus named after them. But that's long in the past, back in World War II when Hal Sway (voiced by Brian Dennehy), dashing war hero, married young Charlie (Mary Beth Peil), and for their wedding, a then popular swing vocalist (voiced by John Grant) recorded a 78 just for them, a record that has never been released - or even played or taken out of its wrappings ...
As mentioned, this was long ago, now it's 1992, Hal didn't survive the war, his son Tim (Jason Brill) has only recently died in a car accident while wasting all his time away collecting records ... and now Tim's son Ollie (Rory Culkin), like his father a record collector lacking a goal in life, comes to the (by now mostly empty) family estate on Sway lake to track down that very record which he feels the ultimate testament to his and his father's passion. He brings with him Nikolai (Robert Sheehan), a womanizing and larger than life Russian immigrant who's also a true friend to him - and he soon finds a girl he falls in love with, Isadora (Isabelle McNally), maid at a resort across the lake.
Everything could be so much fun ... but then grandma Charlie arrives at the estate as well. She has fallen on hard times and hopes to sell the place, but figures the unique record could make her a lot of money and save her from having to do so and preserve her pseudo-aristocratic dignity. But now she's in a race with Ollie to find the record, and finds an unlikely ally in Nikolai, who's fascinated by her and yet has his own agenda, while Ollie finds an even more unlikely ally in Charlie's maid Marlena (Elizabeth Pena), who's not at all ok with her employer's constant scheming.
So in this most idyllic location, set to most romantic swing music, everything heads for chaos ... or does it?
The Song of Sway Lake is a movie that falls between many a chair, it's romance and drama, soap opera and (pseudo-)musical all in one, peppered with some coming-of-age elements and nostalgia for a long-gone musical era - and yet it falls very softly, coming up with an entirely charming yet by no means saccharine melange that thanks to a well-conceived script lets one care for and laugh with the main characters without painting black and white images of good and evil, instead telling a compelling story where the vintage soundtrack is skillfully embedded into the narrative rather than just accompanying it.
... and all of this makes this a movie that's very easy to enjoy!