Hot Picks

Spirits in the Dark


Hungary / UK / USA 2019
produced by
Gergö Elekes, József Gallai, Beáta Boldog, György Boldog, Michelle Nessk, J.R.S. Storch, David Strege, Roy McClurg jr (executive), Shawn Clankie (executive), Jay Sorensen (executive) for Hepifilms, Elekes Pictures, Lazy Cat Films, Gloomy Sunday Productions
directed by József Gallai
starring József Gallai, Ágota Dunai, Peter Cosgrove, Beáta Boldog, Zsófia Gallai, Shawn Clankie (voice), Gergö Elekes
written by József Gallai, music by Gergö Elekes

review by
Mike Haberfelner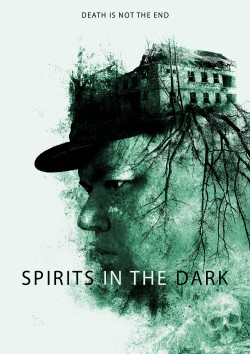 Ever since the death of his wife, Gil (József Gallai) felt a certain emptiness, which is only somehow relieved when he receives a video of someone exploring a creepy abandoned building (Gil and his wife's favourite pastime) and finding a pendant, just like the one Gil's wife used to wear, just before a possible ghostly apparition. He decides to check out the building complex - a former Russian military complex he and his wife actually had never been at - even if the guy who sent him the video (Peter Cosgrove) later tries to warn him.
Now the military complex in itself is proper spooky, but nothing that Gil hadn't expected, and when his car starts to honk its horn all of its own, Gil is of course perlexed but sees this as an invitation to spend the night to figure out the secret of the place - and in that night, things get proper scary, Gil thinks he hears a baby wailing, finds traces of blood, a creepy mask, eventually even severed fingers, a missing poster - and here's where things get really out of control ...
A very interesting piece of slowburn horror, Spirits in the Dark's main focus is firmly on atmosphere, and the rather impressive camerawork surely delivers in droves, so much so that even the abundance of first person shots (in most other movies an excuse to let the aesthetic side of things drop a bit) look very moody and are beautifully shot, with an emphasis on decay and emptiness, perfectly mirroring the lead character's own mindset. And of course, the creepy score also helps a lot in setting the tone. Plus, the finale is as unexpected as it is purely nerve-wrecking. Well worth a look for sure!