Hot Picks

Suzie Heartless


USA 2008
produced by
Donna Kane for Pandora Pictures
directed by Tony Marsiglia
starring Wendy McColm, Andrea Davis, Liana, Ray Calloway, Ivan Crasci, Steve Musallan, Michelle Aston, Philip Hersh, Angela Martinez, Mary Jane Paige, Francois Valenzuela, Brandon Scott, Wayne Sherwood, Jake Nelson

review by
Mike Haberfelner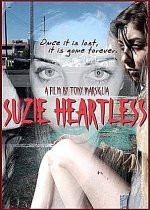 To help Tony Marsiglia fund his next feature, buy Suzie Heartless from his
Teenage Suzie (Wendy McColm) is drifting the streets in a way too short skirt, always looking for a trick - but Suzie is far from being a happy hooker, her sexual experiences are mostly traumatic, her customers are psychopaths more often than not, and when she tries to hook up with other hookers, they are just using her for their own ends. Actually, Suzie has only become a prostitute after she got brutally raped, an event that completely derailed her and still haunts her. Now she has taken abode in a warehouse, and the only beings she can relate to are her cat and her stick dolls, while even her younger self she keeps to see everywhere she goes has turned away from her.
Ultimately, Suzie and another girl (Andrea Davis) hook up with a special psycho ... who uses a knife during sex and stabs Suzie's friend. Overcome by compassion, Suzie drags the injured girl with her to the hole she lives in and tries to nurse her back to health - when even her compassion turns against her, and the girl not only dies, but Suzie's cat - whom Suzie pictures to be the killer - starts eating her face ...
Fleeing from the horrific scene, Suzie gravely bumps her head - and utlimately she dies in the streets from the injury, alone, since there's nobody to care for her - but at least she got forgiveness from her younger self.
One thing up front: Suzie Heartless is a deeply disturbing film - and it's supposed to be, too. In drastic images, it paints the picture of a heartless world that refuses to have compassion for an innocent girl like Suzie and instead spits her out. The world of Suzie Heartless is mute, there is not a single word of dialogue, and the soundscapes the film is accompanied by are positively haunting. Now making a dialogue-less film might sound like nothing more than an artsy and self-satisfying device, but in Suzie Heartless it makes total sense, reflecting both the mental state of its strung-out main character and the reaction of a merciless world to her. Add to this newcomer Wendy McColm giving a terrific, disturbing and disturbed performance, and you've got a great film on your hands.
Not an easy film to swallow maybe, but definitely director Tony Marsiglia's best and most mature so far, and totally recommended.