Hot Picks

- Yes 2019
- Abi 2019
The Swerve


USA 2018
produced by
Tommy Minnix for Spark Chamber
directed by Dean Kapsalis
starring Azura Skye, Bryce Pinkham, Ashley Bell, Zach Rand, Taen Phillips, Liam Seib, Deborah Hedwall, Dan Daily, Jason Gupton, Lindsay Jackson, Kristine Sorenson, Jenna Marie Hess, Gretchen Portelles, Chadwick Davilsaint, Maikel Ramic, Josh England, Stevie Holcomb
written by Dean Kapsalis, music by Mark Korven

review by
Mike Haberfelner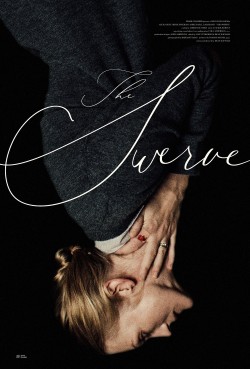 On the surface, Holly (Azura Skye) seems to lead a happy life, she has a nice home, nice car, she enjoys her job as a teacher, is married to Rob (Bryce Pinkham), who loves her, and has two sons (Taen Phillips, Liam Seib) who aren't too much trouble. Sure she's suffering from insomnia, but that can easily be fixed with some medication ... that gives her bad dreams. Things start to crumble a bit when she finds a mouse in the house and is later bitten by it despite her best efforts to get rid of it. Later at a dinner with her parents (Deborah Hedwall, Dan Daily) and sister Claudia (Ashley Bell), she gets the feeling she's the fifth wheel on the cart, especially since Claudia is getting much more attention than she does despite never having made anything out of her life. Claudia leaves in a hurry - and driving home on her own leaving even her husband and childen behind, she gets into such a rage that she drives another car off the street ... or does she really?
Soon after that, Claudia moves in with Holly and family as she has fallen out with her parents, and she more and more takes over Holly's functions in the household and Holly also thinks her life. Also, Claudia starts working at the supermarket Rob's manager of, and Holly catches them making out, upon which Holly starts an affair with a student (Zach Rand) who she knows adore her as payback - and is almost disappointed that Rob doesn't catch her in the act.
Eventually, Holly's life turns into such a hell that she only sees one way out - but even this is more treacherous than she could have ever imagined ...
The Swerve is an eerily compelling film, especially since it never goes for "big drama" and instead focuses on everyday situations that might or might not be sprinkled with hallucinations, and that see the film's protagonist slowly break up over the little things nobody else seems to see but which are made palpable for the audience - and a rather intense performance by Azura Skye helps a lot in achieving this of course, in tandem with the direction that focuses on her inner struggle. And a result is a very disturbing film that's fascinating in its own way - but be warned, this is not a movie to watch when you're depressed.