Hot Picks

The Table


USA 2011
produced by
Ana Barredo, Phil Bishop, Roger Lay jr, Marc Scott Zicree for Grand Fenwick Productions, Urban Archipelago
directed by Ana Barredo
starring Marc Scott Zicree, Elaine Zicree, James Troesh, Mark Haynes, James Metropole, Armin Shimerman, Neil Johnson, Guillermo del Toro, Robert Amico, William Balch, Richard Basch, Sara Jo Elice, Joel M.Gozales, Michael Nankin, Cali T.Rossen, George Takei, Dave Taylor, Chawn Watkins, Will Watkins, Chris Wyatt
music by Brandon Moore


documentary

review by
Mike Haberfelner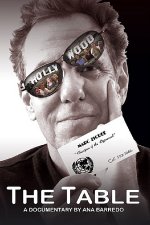 Marc Scott Zicree has been writing screenplays for decades, mainly for TV shows like Star Trek: The Next Generation, Star Trek: Deep Space Nine, Babylon 5, Sliders, Forever Knight, TekWar, and a busload of animated series. But despite being a rather well-established Hollywood figure, he has never aspired to become Hollywood nobility but has instead founded The Table (sometimes The Round Table) about 20 years ago - which is basically a weekly gathering open for everyone to attend, where both established and aspiring artists of all kinds are encouraged to talk about their Hollywood experiences, and through the Table's network, they are often able to help one another. The most prominent Table-attendees are probably director Guillermo del Toro, Star Trek's George Takei, Star Trek: Deep Space Nine's Armin Shimerman, and Napoleon Dynamite-producer Chris Wyatt, but the more interesting stories are those of newcomers getting ahead thanks to the Table, or the one about quadrileptic writer/actor Jim Troesh, who had enjoyed some fame thanks to a recurring role in the Michael Landon-series Highway to Heaven, but who has found it impossible to get work after that, until Table-members have put him back on track. (Sadly, Troesh died not long after this film was finished.)
However, the movie also shows Marc Scott Zicree, the writer, in his attempts to bring his pet project Magic Time to the screen, and the challenges he has to face despite the support of the Table ...
Basically, The Table is a touching portray of the other side of Hollywood, a Hollywood not infatuated with Lindsay Lohan's partying habits or whether or not Brad and Angelina will seperate, but a place full of aspiring people struggling to get jobs, struggling to make ends meet, but passionate about what they do (and probably way more talented than Hollywood nobility anyways). And it's about the power of community, of a network that is not only there to get you somewhere but also serves as something to fall back on. And it's a film that gives you hope that something good will come out of Hollywood eventually - so in that way, it's also unexpectedly inspiring.
Recommended, actually.