Hot Picks

Tainted


Canada 2020
produced by
Jordan Barker, Borga Dorter, Allan Fung (executive), Brad Gregorini (executive), Tania Zuccarini (executive), Ryan H. Cunningham (executive), Ron Eli Cohen (executive), Royce Mattice (executive), Michael Baker (executive), Dave Hudakoc (executive) for Gearshift Films, levelFilm
directed by Brent Cote
starring Alan Van Sprang, John Ralston, Aaron Poole, Sara Waisglass, John Rhys-Davies, Lina Roessler, Neven Pajkic, Shawn Roberts, Thomas Mitchell, Josh Bainbridge, Shauna Thompson, Joseph Claude Dubois, Julian Lewis, Jake Michaels, Simon Northwood, A.C. Peterson, Miia Piironen, James Eddy, Jack Sansone, Duncan McLeod, Darrell Jordan Hicks, Darcy Roy
written by Brent Cote, music by Dillon Baldassero, stunt coordinator: Eric Bryson

review by
Mike Haberfelner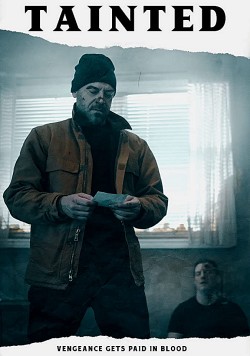 Lance (Alan Van Sprang) has spent 15 years in jail after working for both the Russian mob and the Aryan Brotherhood, and now that he's out again he just wants to live a normal life, inconspicuous and unexciting as can be, without any crime or violence. His former life has turned him a loner though, and thus the only person he's even at talking terms with is his neighbour Anna (Sara Waisglass), a waitress by day and talented yet totally unsuccessful singer by night.
Gregor (John Ralston) runs a pastry shop together with his wife Adaline (Lina Roessler), who's a very talented chef, and they seem to be fairly successful - but behind closed doors and without Adaline's knowledge, Gregor is also a higher-up of the Russian mob, and they've only recently tracked down Lance who tried to disappear after his prison stint. On the behalf of his boss Vladimir (John Rhys-Davies), Gregor offers Lance a way out of the mob for good - with enough money to last a lifetime and a new passport - in exchange for him taking out a chapter of the Aryan Brotherhood. Reluctantly, Lance accepts the assignment, figuring anything to cut ties to his former life is a good thing, and he does a wonderful job killing his Aryan targets as a one-man army. Thing is, unbeknowest to him, there was a witness to all of this, a young boy the Aryans now guard with their lives to learn who has taken out their brothers. Now Gregor votes for just letting Lance go and be the fall guy, but Vladimir fears Lance might snitch, and thus orders Gregor and his men to eliminate him. They find out thought that he's not one to go down easily, but they still have one ace up their sleeves, Anna ...
If bleak and pessimistic thrillers are your thing, this one ought to be for you, as it's a film without heroes where dreams are squashed routinely, and happy endings are few and far between - and the film brings this across rather masterfully, taking at least as much care in creating a dark atmosphere as piecing together some exciting action setpieces. And the cast do an uniformly great job bringing their mostly broken or at least ambivalent characters to life. Sure, this is not your cookie cutter action flick, but if you're up for a trip to the dark side, you're pretty much sure to enjoy this one.