Hot Picks

They're Inside


USA 2019
produced by
John-Paul Panelli, Derek Dennis Herbert, Andrew Barcello, Schuyler Brumley, Geoff Judge (executive), Mary Ann Casati (executive), Jennie Jacobs (executive), Russ Forga (executive), Sheri Forga (executive) for Scratch Tap Productions
directed by John-Paul Panelli
starring Karli Hall, Amanda Kathleen Ward, Sascha Ghafoor, Chelsea D. Miller, Jake Ferree, Matthew Peschio, Alex Rinehart, Louie Chapman, Schuyler Brumley, MacLeod Andrews (voice)
story by Schuyler Brumley, screenplay by Schuyler Brumley, John-Paul Panelli

review by
Mike Haberfelner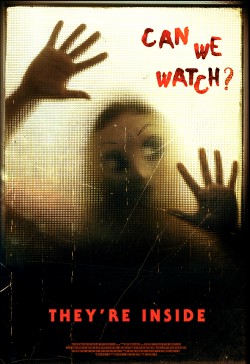 Director Robin (Karli Hall) has rented a cabin in the woods to film a very personal movie, basically about her not always easy relationship with her husband Max (Schuyler Brumley) and has brought nothing but a skeleton crew: Actors Joanna (Chelsea D. Miller) and Aaron (Sascha Ghafoor), camera guy Doug (Jake Ferree), and soundgirl Cody (Amanda Kathleen Ward), who also happens to be her sister. The shoot gets pretty intense, as Robin is touching some really sensible issues - many of which actually concerning Cody rather than her. Cody feels tricked by this and suspects Robin to secretly making a documentary about her (since Robin's filming behind the scenes footage pretty much all the time), trying to get her to melt down on film.
Apart from that though, the relative isolation of the place gets on everybody's nerves, especially since their neighbours (Matthew Peschio, Alex Rinehart) are weird, to say the least. And of course, there's no cellphone reception at the place, and when the landline cuts out and their car won't start anymore, a light panic sets in - and it should because there are a couple of masked psychos out there who are intent of killing them. But they're not just mindless brutes, they also have placed cameras everywhere in the cabin to - well, let's just say their intentions are worse than just lethal ...
They're Inside surely is a very unusual movie, no matter which way you look at it: Yes, it's a found footage movie, and yes, it has many aspects of a slasher, but then again it's also a character study, and it shows some arthouse tendencies - and it's all somehow rolled into a coherent whole that at times seems to lead its viewers astray with glee, playing with genre conventions and audience expectations. And thanks to a strong script, a solid cast, and a directorial effort that doesn't forget to create suspense over it's found footage approach, this one works like a charm.