Hot Picks

This Land


USA 2023
produced by
Collin Watts, Anthony Cook, Richard Greenwood jr for Story Beast Pictures, Rick Nino Films, Neural Network Entertainment
directed by Richard Greenwood jr
starring Natalie Whittle, Adam Burch, John J. Pistone, Garret Camilleri, Taylor Joree Scorse, Jerod Powers, Mindy Montavon, Jay Dersahagian, Matthew Vey, Philip Orazio, Shaun Boylan, Brynn Sicard, Matt Pick, Khira Layne, Sean Fau-Burnitz, Collin Watts, Omar ZakiGabe Rios, Bowen Watts, Rob Shiells, Zhongyi Bai, Anthony Cook
written by Collin Watts, Leon Langford, music by Alan Damien, AlexVndria Von Kelly, visual effects by Oliver Bou Eid

review by
Mike Haberfelner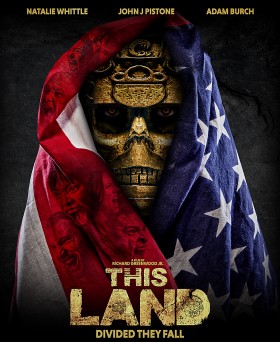 A year ago, Ava Owens (Natalie Whittle) has lost her unborn child in a traumatic incident on 4th of July, so for this year, her husband Neil (Adam Burch) has decided to take her and their teenaged son Dakota (Jerod Powers) to a cabin deep in the woods, so there's absolutely nothing that will remind her of a year ago. Thing is, apparently the cabin has been double-booked, and while the Owens are liberal mixed race city folks, the Moss family - Grady (John J. Pistone), Barb (Mindy Montavon) and their teenaged daughter Reagan (Taylor Joree Scorse) - are God and gun loving small town folks with a penchant for hunting. They decide to still try to make it work, but are of opposite opinion just about anything, and frequently get into arguments that are at times only one step away from getting physical. Only the kids have taken an instant liking in one another, neither too fixed in their parents' believes. This eventually leads to Reagan dropping a bombshell over an already tension-filled dinner, that she's pregnant - something she has already told Ava before even her parents. This loads up the situation quite that much that Grady decides for him and his family to leave, just to not let things get out of hand even more. But then he can't start his car, and on closer inspection it turns out the car has been sabotaged. Thing is, by whom?
And while their parents are still arguing, Dakota and Reagan sneak off to break into a neighbour's home to take a swim in their pool - and out of the blue witness the neighbours to be brutally slaughtered by a bunch of masked men. The masked men then go after them, but while they can evade their pursuers, the masked mob, followers of an ancient Aztec cult as it turns out, head for the Owens and Moss's cabin, and so the two families suddenly find themselves under siege and must bury their differences to fend off their opponents until help arrives - help like ranger Corbin (Garret Camilleri), who has been called by a neighbour concerned about, of all things, two teens making use of his pool. Thing is, Corbin's intention might not be as benign as the situation would demand for our heroes to survive ...
Now admittedly this film goes on a bit too long and puts in a bit too much effort into showing how different the two families are, not made better by the fact that it does pick a side. That said though, the film at the same time puts a lot of effort into character work, making sure that neither side come off as blatant caricatures - and a strong ensemble cast makes sure that they all come across convincingly, too. But what really makes the film is its third act that's action and suspense filled, full of macabre details and plenty of violence - so pretty much all a die-hard horror fan might ask for. And even if it's pretty easy to guess from early on who will survive, who will die, and who will commit the ultimate sacrifice, the way the finale gets there still keeps one guessing nevertheless, making this a very satisfying piece of genre cinema.