Hot Picks

Tokyo Home Stay Massacre


Japan 2020
produced by
Wilco C. Rullens, Katie Rong (= Hao Rong), Siddhart Jaipal (executive) for CultureShock Japan, Tokyo Bay Films Entertainment
directed by Hirohito Takimoto, Kenta Osaka
starring Alex Derycz, Diana G., Will Harrell, Miyatani, Kumi Yuuki, Umiyushi, Karin Tokushige, Kanta Nonaka, Yuuki Kawashima, Ai Namura, Hideki Yanayi, Kaname Yuumura, Tousei Yamaguchi
written by Hirohito Takimoto, Kenta Osaka

review by
Mike Haberfelner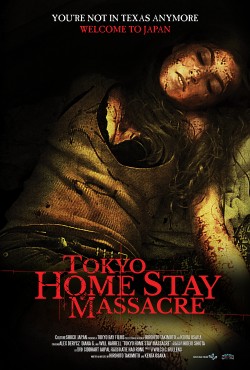 John (Alex Derycz), Darah (Diana G.) and Spencer (Will Harrell), American students of Japanology, come to Tokyo to experience Japanese culture first hand - and at first are a little overcome by culture shock when they arrive at the house they're staying at. Sure, their host (Miyatani) is nice, but goes over the top with it, while his mother (Kumi Yuuki) makes no secret out of not liking Americans, his daughter (Karin Tokushige) is downright creepy, and the son (Umiyushi) has a feral touch to him. Also, the place is a bit more crammed than our visitors from the USA might be used to. What they don't know is that their host family needs them for some bloody ritual to in a bizarre way honour their ancestors.
It's our heroes first night at their new abode, and it's about midnight - and Spencer has the good idea to go exploring the house undisturbed while their hosts are sleeping, and put it all on film, too. The others aren't crazy about this, but Spencer just strings them along, and is especially keen on exploring the very room their host has them forbidden to ever enter - and once inside, our heroes disappear one by one, and wake up tied to chairs waiting to be the centerpiece of a blood ritual. Sure, all three are still full of fight - but the odds are definitely against them ...
In premise, this film might be somewhat reminiscent of Hostel, what with the culture shock and American misconception of foreign cultures and all, however in execution, Tokyo Home Stay Massacre is much more a throwback to Japanese low budget shockers from the 1980s, where the obvious budgetary restrictions just led to inventive ways to put every Yen on screen, be it merely by using eccentric camera angles to use every corner of the sets, or by just going overboard in the gore department, with unnaturally gushing wounds and everybody getting sprayed in blood, or by putting into action some crazy fight scenes that are not rooted in reality but make a good (and inexpensive) spectacle on screen. Now that said, to properly enjoy this one it sure helps to have a predilection for Japanese gore flicks, along with a certain sense of humour, but if you check both boxes, you're in for some fun genre entertainment!