Hot Picks

Triggered


USA 2018
produced by
Chris Moore for CWM Entertainment
directed by Chris Moore
starring Meredith Mohler, Jesse Dalton, Sam Furman, Keni Bounds, Arian Thigpen, Caitlyn Driscoll, Amanda Wyss, Alberto Meza, Kirsty Hatfield, Holly Bonney, Isabella Alberti, Chris Wesley, Mandy Kate Myers, Eric Riggs, Ava Grady, Cheryl Abernathy, George Mayronne, Hope Prybylski, Lantz Kuykendall, Denise Astorino Brown, Kaley Ball, David Jackson, Michael Kinslow, Erick Weeks, Jordan Boyd, Allison Gilbert Bennett, Claire Mayronne, Luke Mayronne
written by Chris Moore, music by Luke Zwelsky

review by
Mike Haberfelner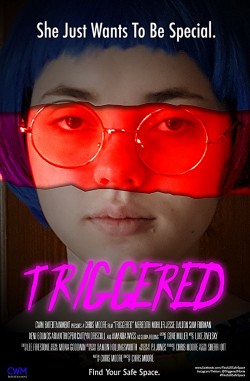 Callee (Meredith Mohler) is a high school student desperate for attention, but since she doesn't fit the classic pretty girl/cheerleader ideals, she chooses to push her ideas of political correctness and of gender fluidity on anyone - which basically isn't a bad thing to do, but once you complain about non-Asian women wearing chopsticks in their hair, calling it "cultural appropriation", and insist on using the boy's room but can't see that male students might not be too happy about it, you become a nuisance - and thus, Callee has very few friends ... well, one, Ian (Jesse Dalton), whom she not so secretly has a crush on, but who spurns her advances on grounds of being homosexual but sticks with her like any best friend would. So eventually, when she kills school beauty Lisa (Caitlyn Driscoll) in a mere accident, he helps her make it look like all three of them were attacked by the local slasher, but he or she only actually got Lisa. Finally, Callee gets the fame and recognition she wanted - and Ian? Well, suddenly Lisa's ex Zac (Sam Furman) starts noticing him, and it turns out Zac's a closet homosexual as well.
So happy ending for everybody? Not quite, as there actually is an actual slasher roaming the town, and he or she's not all that happy about being blamed for the murder of Lisa (s)he didn't commit - which pretty much doesn't put Callee and Ian merely in the center of attention but also in the crosshairs of a psycho. And what's more, one of Lisa's friends (Arian Thigpen) has actually witnessed Lisa's murder and recorded it all on her cellphone - but rather than going to the police, she decides to blackmail Callee and Ian. And then there's also the fact that Callee, hearing about Ian and Zac, suffers a fit of jealousy that might just trigger a rather violent reaction - all of which makes up for a rather lethal cocktail ...
Well, one can't really deny that this film does draw some inspiration from the late 1980s cult classic Heathers - but a) that's a pretty good source of inspiration, and b) Triggered might borrow the high school setting and a few motives from that movie but veers off into a very different direction, like applying the slasher movie formula to its narrative in a very unusual way and twisting and turning while spinning its yarn like any good murder mystery would. And all the while, the film is fueled by plenty of dark humour (which come to think of it is another similarity with Heathers I can totally live with). And thanks to a cleverly written script, a tight directorial effort and a solid cast, Triggered comes across as a genre entry that's very entertaining in its own right and will strike a chord with horror fans for sure!