Hot Picks

Turnover


USA 2019
produced by
Mark Cardone, Rae Davis, Marvin Glover, Brian McCormick, Linda Palmer, Martina Webster, Joshua B. Cole (executive), Cheryl Croasmun (executive), Hal Croasmun (executive), Mark Davis (executive), Janel Tanna (executive) for Runaway Productions, Sea Sand Entertainment
directed by Linda Palmer
starring Paul Guilfoyle, Carlos Carrasco, Julia Silverman, Isabella Blake-Thomas, Adwin Brown, Riker Lynch, Blair Williamson, Jamie Brewer, Kat Kramer, Daniel Hoffman, Elina Madison, Ellen Gerstein, Danny Pardo, Donna Mills, Beverly Todd, Antonio D. Charity, Julia Vera, Raquel McPeek Rodriguez, Janel Tanna, Oscar Torre, Julia Parker, Pete Freeland, Margo Quinn, Priscilla Leona Horne, Betsy Hume, Fleet Easton, Aaron Stall, Seasonne Rose, Chris Pentzell, Jennifer Eagle, Avi Agarwal, Jack Gilroy, Brian McCormick, Joshua Wark, Gabriela Smith, Diane Musselman, Tamiyka White, Shelly A Muñoz, Ramani, David Skinner, Scott Engrotti, Igor Djenge, Thomas Soliz, Kimberly Loftus, Illy Di, Kathlyn Fernandez, Erick Rodolfo Diaz
written by Linda Palmer, Laree' D. Griffith, music by Nami Melumad, Natalia Perez

review by
Mike Haberfelner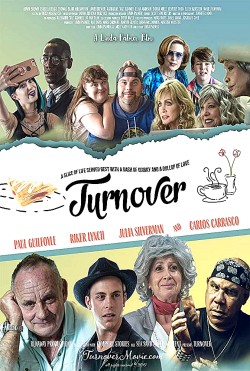 Peter's (Paul Guilfoyle) running a semi-fancy French restaurant that's actually doing fairly well - at least well enough that he's thinking about opening a second branch in Las Vegas ... when his manager Henry (Riker Lynch) finds out from his bitch ex-wife Fran (Kat Kramer) that Peter's going to make his pre-teen son Sean (Daniel Hoffman) and not him, Henry, partner in his company - which was all Fran's idea of course, but since she still has a hold over Peter, he couldn't refuse. Henry quits immediately and hires with Peter's fiercest competition, but Peter's out of town, so before he goes, he hires new personnel for Peter, personnel that couldn't be more ill-fitted for the job: Hearing impaired elderly Gladys (Julia Silverman) is to be the head waitress, irresponsible goth girl Pepper (Isabella Blake-Thomas) the hostess, fierce-looking ex-convict Miguel (Carlos Carrasco) is hired as cook, and mentally challenged Charlie (Blair Williamson) and Gina (Jamie Brewer) as bus boys, while the whole thing is to be overseen by young William (Adwin Brown), who has no experience in the managerial department at all, and no leadership qualities to begin with. On their first day, before Peter has even returned to the restaurant, the six of them find out how ill-fitted they're all for their jobs, but since neither has anything better to do, they make it work somehow to the best of their capabilities - and when Peter does return, he's shocked what they have made of his vision of a French restaurant, but the little bit of business they do is better than none. And misfits as they might be, his employees really put their soul into it, and eventually Peter has to realize they can make this work if he moves away from his preconceptions and meets his staff half-way. And it's not long before he and his little gang become like a family, and without being a roaring success, the restaurant is gradually doing fairly well, so well in fact that it earns Peter the respect of his ex - but then, during a function at the place, Peter suffers a stroke, and if it wasn't for his staff getting him to the hospital just in time, he might have died. And now the future of the restaurant hangs more on a thread then ever, and while the staffers are giving their all, that might not be nearly enough ...
Turnover is more than anything else a sweet film, a movie with a down-to-earth story that effortlessly changes from comedy to drama and back, and that has a loveable message to it without trying to hammer things home. And the film's subtle direction really helps here. But what probably makes the film the most is its cast of key characters that are all likeable and relatable with all their flaws, with proper arcs that aren't always a walk in the park.
So basically, if you could do with something heart-warming, then this one's definitely for you.