Hot Picks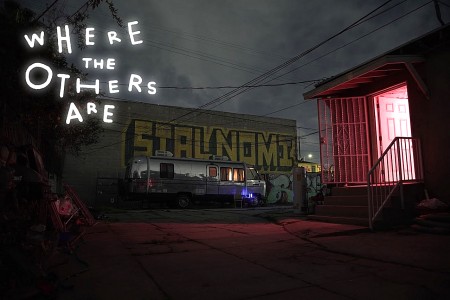 Maggie (Emily Goss) has called a friend to help her get away from her boyfriend Ben (Daniel Van Thomas), who she lives in a trailer with, but not because he's abusive, which has long been an open secret anyways, but because ... well, he isn't anymore, he's kind and considerate these days - and that makes Maggie believe Ben isn't actually Ben anymore but someone else - no, something else. Of course that sounds more than a little far-fetched, but then Ben returns, and he really is ... odd. And it's not just because he treats her nicely and refuses to accept the fight Maggie's trying to pick, it's also because he seems to on one hand have an almost identic memory, on the other lacks to understand basic human behaviour and behavioural patterns as well as tact, and he continuously writes stuff down in his notebook as if taking notes from things he just learned. And somehow he knows she's pregnant and acts protective about it in a very weird way. Maggie tries to make Ben admit that he's something else, but he's very evasive. The problem is though, even if he'd admit to not being quite human, she wouldn't have the first idea how to react to it ...
Where the Others Are has quite an unusual history to it, as initially this wasn't indended to be a film at all but a piece of immersive theatre, performed to an audience of no more than two at a time who really take part (to a degree) in the goings-on of the play - something that's mirrored in the "friend" Maggie has called in to help her move out, a friend we never see or hear and whose eyes are the camera lens. However due to the COVID-19 pandemic, the play had way too short a run to really reach a wide audience, so the team behind it, who also had some experience in filmmaking, did the next best thing and turned it into a movie to give the play the audience it deserves.
Taking all this into account though, the film actually feels like anything but a play hastily put on film but has an actual cinematic feel to it and feels very natural in the new medium, most probably mainly thanks to two reasons, 1) immersive theatre as such in many ways resembles a movie much more than a traditional stageplay would, as the viewer (like a camera in a movie) moves within the action rather than sitting in front of it by its very definition, and 2) the directors have taken a very cinematic approach to the whole thing considering camerawork, lighting, colour and sound design, to really fit their story to the new medium, and have succeeded rather admirably. Apart from all that, the whole thing's also very well-written and structured, and even if the premise might sound a bit far-fetched in writing, it does work on screen and poses some very interesting philosophical questions, and the actors really give their all to make things utterly believable, and succeed as well - which all amounts to a pretty cool movie indeed!
Now if this has at all gotten you interested, you can get Where the Others Are here: https://vimeo.com/ondemand/wheretheothersare