Hot Picks

- Nox 2019
Witch Hunt


USA 2016
produced by
Richard Chandler, Jean Chandler (executive) for Boston Film Family
directed by Richard Chandler
starring Graham King, Tony Ramos Wright, Lilith Astaroth, Carver Riot, Richard Chandler, Lynn Julian, Sonya Joyner, Lucca Drummond, Nicole Sarmiento, Alexandra Bruno, Christian Cromwell, Georgia Rose Matlack, Angel Connell, Hannah Heckman-McKenna, Jake Vaughan
written by Richard Chandler, songs by Rob Byrd, Cancerslug, Sorrow Seed, Evil Sword


featurette

review by
Mike Haberfelner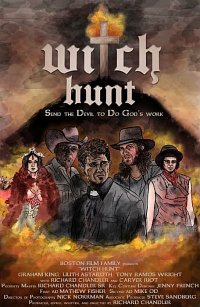 Father James (Graham King) has had himself transferred to a small town parrish, quite probably to enjoy the peace and tranquility of the countryside ... but heck, the place where he's gotten to is anything but peaceful and tranquil: Young girls are disappearing at an almost regular interval, a witches' coven (led by Lilith Astaroth) has set up camp just outside of town, and the local Sheriff (Tony Ramos Wright) turns out to be a violence-prone homosexual gay-hating prick - so that alone is enough for Father James to doubt his faith already - but then two witchhunters (Richard Chandler, Carver Riot) turn up on his doorstep, psychopathic and incestuous siblings with a tendency for ultra-violence - and while it's certain that they WILL be able to do things, and in the Lord's name even, it's more than a little doubtful that that will be for the better ...
Now one thing's for certain, Witch Hunt is definitely not your run-of-the-mill contemporary horror - and not only because it takes inspiration from a wide array of genre mainstays, not only from the horror genre, but also from sexploitation, spaghetti westerns and the like, and despite the occasional chuckle, this one never becomes an over-the-top spoof ... well, over-the-top perhaps, but don't expect this movie to be a laugh riot.
And after having depicted everything Witch Hunt might not be, it actually IS quite a tene little horror thriller that has got an interesting story to tell that is wrapped into fittingly outrageous pictures - that help the narrative though rather than distract from it. And a very solid cast of course helps to get all this across.
Totally worth a watch!!!