Hot Picks

- Nox 2019
Your Flesh, Your Curse


Denmark 2017
produced by
Anders Norddal Jendresen, Kasper Juhl, Coulson Rutter (executive), Daniel Walker (executive) for Hellbound Productions
directed by Kasper Juhl
starring Marie-Louise Damgaard Nielsen, Frederik Carlsen, Rose Milling, Louise Gammelgaard, Kim Sønderholm, Mie Gren, Paw Terndrup, Natasha Dratinskaia, Ninna Raiden, Emma Nymann, Bill Hutchens, Lina Nemi Nielsen, Nina Grønbech
written by Kasper Juhl, music by Anders Norddal Jendresen, special effects by Christine Scheel Kvint, Janus Vinther

review by
Mike Haberfelner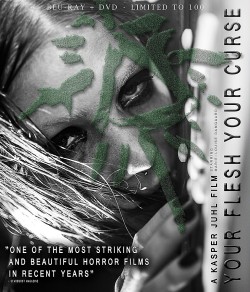 Scarred for life by sexual abuse by the hands of her father (Bill Hutchens), Juliet's (Marie-Louise Damgaard Nielsen) life has been on a downward spiral ever since, on good days she's a substance abusing partygirl with frequent blackouts and heavy hangovers, on bad days she's a prostitute who has long grown accustomed to physical and mental abuse, as long as it pays her bad habits. She has also a tendency for self-harming. And then, after passing out on a field after an especially heavy bender, she's brutally raped and murdered. And that should be the end of it - but it isn't, as now she meets her spiritual guide who makes her relive the low points of her life and forces associations - which include alive skinnings, disembowelments and the like - upon her that make afterlife seem like a violent slide to hell ...
Now one thing up front, Your Flesh, Your Curse is definitely not for the faint-hearted, as all the violence is played out in great detail and in (in a good way) painfully long takes, to a point that there's very little left to the audience's imagination. But that said, Your Flesh, Your Curse is at the same time anything but your typical gore flick, in fact it's not even a typical narrative film at all, as its plot moves forward in a rather circular manner that invariably favours associative over "factual" storytelling. And that this all works is thanks to an extremely atmospheric, almost lyrical, directorial effort, and of course thanks to a disturbingly strong central performance by Marie-Louise Damgaard Nielsen.
Well worth a look for sure, but you really have to be in the mood to be disturbed ...
... and if this at all has gotten you interested, you might as well get the film on DVD and Blu-ray here: hellboundproductions.storenvy.com/products/23652093