Hot Picks

The Turning

Zombie Lover


UK 2011
produced by
Kemal Yildirim for J.I. Productions
directed by Jason Impey
starring Kemal Yildirim, Lianne Robertson, Max Fellows, Rami Hilmi, Eileen Daly, Jason Impey, Alan Impey, Charley Flyte (as Rachael Stewart), Kathryn Greensmith, Nick Cooke, Dave Hannunt, Cheryl Burniston, Joanne Pettit, Lucia Janes, Zoe Michael, Sharon Impey, Harvey Impey
written by Jason Impey, music by Ralph Cardell, special makeup effects by Jenny Buckland, stunt coordinators: Rami Hilmi, Kemal Yildirim

review by
Mike Haberfelner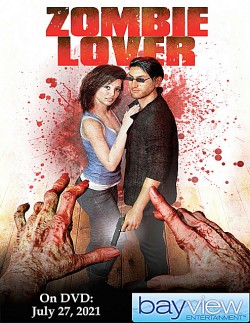 When Dillon (Kemal Yildirim) bumps into Stacey (Lianne Robertson), a friend from way back when, by pure accident, sparks fly almost instantly, and it's not long before the two become lovers. Thing is, Stacey's married to Michael (Max Fellows), and he soon enough figures out something's going on with his wife, so he sends private eye Quaid (Rami Hilmi) to spy on them, and as soon as he has proof of his wife's infidelity, he arrives home early one day to catch them red-handed. A struggle ensues, and Dillon kills Michael in self defense. Not wanting to be accused of murder, Dillon and Stacey decide to drop Michael's body in the woods, then make a getaway to another town.
So far so bad, but it gets worse when Michael comes back to life as a zombie. And it turns out the woods they wanted to drop Michael is actually overrun by zombies. And one of them has bitten Stacey, and all their efforts to stop the spread of the virus might (or might not) be in vain. What's even worse, the woods are also full of unsavory characters, including Quaid, who has since been hired to kill Dillon, neo-nazi Leon (Jason Impey), a friend of the deceased who just loves to stir up trouble, and even a mad scientist (Eileen Daly) - a mix that seems to be a recipe for utter disaster ...
True, Zombie Lover is not the most brain-heavy of movies - and at the same time it's hard not to like this neo-grindhouse mix of mainstays from various genre, from crime thriller and action flick to zombie and mad scientist film and pretty much everything in between. That said, Zombie Lover is not a paint-by-numbers job though, it's told in a rather wonderful non-linear way, has all its reveals in original spots, and is heavy on suspense and atmosphere, but sure goes at it when it comes to action. True, it might help for one to be into this sort of movies to enjoy this one, but if so, you'll almost certainly find this very entertaining.