Your first movie as a director, The Abomination, has only recently been released on Blu-ray - so in a few words, what is it about?
My first movie was actually an anthology movie called Tabloid! It was a very expensive flop. The Abomination was a direct response to that experience. Distributors had told us really low budget gore films were doing well -- things like Herschell Gordon Lewis [Herschell Gordon Lewis bio - click here] had done back in the 60s. I did some research and noticed many of those releases were low-quality transfers from terrible old prints. I figured if the end product was VHS there was no reason not to shoot on Super 8mm home movie film. I committed to shoot a movie in ten days for a budget of $10,000. Basically, the film was nothing more than an excuse to deliver as many scenes of gore as we possibly could. Everybody who worked on the film performed functions as both cast and crew.
The idea for the film evolved from recurring images I had in my mind. The first was a bloody hand bursting from a man's chest. The second was a vagina full of teeth. These two haunting images became the tentacle bursting out of Cody and the big mouth in the cabinet. I knew the world was not yet ready for a bloody vagina full of teeth -- at least none of the distributors I knew then would have gone for it. I understand the idea has been explored in other films since then.
In the film, Cody's mother is obsessed with a television evangelist named Brother Fogg. She watches him daily and sends him a lot of money despite being pretty poor herself. Fogg has told her she has a tumor and that he can heal her. She coughs up what seems to be a tumor the size of a goose egg and the thing takes on a life of its own, a sort of twisted expression of the power of faith.
What were your sources of inspiration when writing The Abomination?
Because I was doing this quick and cheap, there was never a full blown script. Just about twenty pages of scenes, suggested dialog, and ideas. We improvised and added dialog and narration as needed all through the process. There were a lot of very wealthy televangelists preying on the gullible in the mid-80s, and there were a number of scandals involving these men who had grown rich selling a commercialized version of the gospel. Jimmy Swaggert and Robert Tilton come to mind. For better or worse I wanted The Abomination to be as different and memorable as possible given our limited resources.
What made you choose the rather ambitious and effects-heavy monster movie genre for this early effort of yours?
I was a monster kid growing up. I'd purchased Dick Smith's book on do-it-yourself monster makeup and had been doing little movies on a regular basis since I was 12. I loved experimenting with effects. I knew having the film populated by toothy creature puppets would be a bit more respectable than the usual no-budget slasher or zombie flick. I really enjoyed making the monsters, and I think all the other crew members had fun bringing them to life for the camera. Oddly enough, Jim Henson was a major influence on the movie, as I'd paid attention to all the articles and documentaries about his Muppets and how they were made and operated.
Do talk about The Abomination's special effects work for a bit!
The major beast in the cabinet was a hinged plywood jaw covered with a sheet of foam rubber (like upholsterers use), balsa wood teeth, a skin made of paper towels dipped in liquid latex. My brother made the toothy tentacle that bites Mom's hand off and ultimately bursts out of Cody's torso. I really like the way the developing monster under Cody's bed played out on camera. The pulsing tumors were white balloons textured with latex, color and bits of paper, with tubing attached. A crew member would be off-camera breathing into the tube to create the pulsing, throbbing effect. Everything was super low-tech but I believe fairly ambitious for such a low-budget production. I liked creating the pitchfork effect for Cody's demise. We cut a hole in a piece of paneling through which Scott Davis (Cody) could put his head and shoulders. We created a false torso out of chicken wire and a bracket into which the tines of the pitchfork could be inserted. The scene's a bit darker than I would have liked it to be but I think it plays pretty well. It gets lots of groans of disgust when people see it for the first time.
A few words about the shoot as such, and the on-set atmosphere?
A friend of my stepfather had given us free-run of his ranch in Poolville, Texas and pretty much told us we could do anything we wanted. We were a group of about 8 friends and family members so it was actually a fun labor of love. Everyone worked well together and rose to the occasion whenever we encountered a challenge. It was a lot more free and easy than most of the productions I worked on.
Another film of yours that has recently been re-released is Repligator - now what's that one about? And how did that project fall together in the first place?
I was always a huge fan of Roger Corman [Roger Corman bio - click here]. He was the guy that gave a lot of indie filmmakers hope. In 1995 I was trying to match his record of making five films in one year. (Back then, that seemed like a big deal, but indie directors make as many as ten films in a year these days!) Anyway, I had produced an action flick called Takedown starring Chris Heldman and Richard Lynch, I directed a time travel picture called Time Tracers featuring Jeff Combs, I directed my first 35mm film, Biotech Warrior -- all of this by August. We had a refrigerator full of 35mm short ends left over from Biotech Warrior and we had the sets from Time Tracers. I asked Keith Kjornes if he could write a script in a week after which we'd try to shoot it in four days (because that was the rumored length of time Roger Corman spent shooting Little Shop of Horrors). Keith got together with T.G. Weems and they came up with Repligator.
The plot concerns a secret military project in which a transporter, something like the device in Star Trek, is created. The thing works. It transports people but has the unfortunate side effect of turning hardened soldiers into horny women. I take no responsibility for whatever subtext you see in that scenario! LOL!
Lots of nudity, comedy and making use of everything we had on hand, like the reptile masks from Time Tracers, sets, etc.
The film is definitely not politically correct in today's climate. Maybe it never was. But Shawn Freeburg, our cinematographer, gave it a very nice look for a no-budget four-day feature. Audiences respond very well to it. Both The Abomination and Repligator are very polarizing. People either love them or hate them.
After shooting Repligator I reached out to Roger Corman and told him I was trying to emulate his busy year of five films. To my delight, he responded immediately and gave me a movie called Rumble in the Streets to shoot before 1995 ended.
What can you tell us about Repligator's screenwriter Keith Kjornes, and what was your collaboration like?
Keith Kjornes was a video editor when I met him. He was very talented as both a performer and a writer. He finally moved out to Los Angeles in later life and scripted a few interesting projects, including The Devil's Tomb starring Cuba Gooding Jr. I miss Keith. He was an over-the-top, enthusiastic, creative force.
Do talk about Repligator's brand of humour for a bit, and to what extent can you personally identify with it?
Had I been the one responding to the challenge to write a screenplay in a week, I don't think I ever could've come up with Repligator. Not then, especially. I think it's funny and delivers a lot of laughs and production value for the budget. The world today is more liberal in some ways and less liberal in some ways. I'm a big proponent of free speech in all its forms. I do not agree with 'cancel culture' politics or any form of censorship. If something offends you, the obvious choice is to turn away from it. Nobody is going to force you to watch Repligator or any movie for that matter. Demonetizing people who express ideas you disagree with is a political abuse of power. I honestly have no idea what some people may think of the movie. But I feel no compulsion to cater to specific demographics of any description. The movie is there for people who can appreciate it. Hope I didn't get too serious with that response. Not sure what you were looking for.
Again, do talk about the actual shoot for a bit!
Not only were we trying to get this thing done in four days but in the midst of it all a German TV crew showed up to do a news feature on what we were up to. The way that came about is this -- the TV crew was doing a feature on Troma, Lloyd Kaufman's company. They wanted a production company that seemed to be a step down from Troma. Initially, they contacted Fred Olen Ray. With his ego, he was never going to agree to be cast in Troma's shadow that way. But Fred contacted me and put the Germans in touch with me. We had nothing to lose. We were grateful for any publicity. And I can honestly say, Repligator is better than anything I've ever seen from Troma. LOL.
How did the re-releases of The Abomination and Repligator come into being in the first place, and what can you tell us about audience and critical recception to these re-released movies?
My friend, Glen Coburn, put out a DVD version of Repligator on his Whacked Movies label sometime around 2010 or 2012 maybe. It got a little bit of a buzz going. When Rob Hauschild of Wild Eye Releasing decided to start a second 'retro' label called Visual Vengeance, he contacted me and asked me to participate in special features. I did and I think he has given these movies very nice releases. He says he's a fan of The Abomination and I have to believe it considering the amount of effort he put into the five hours of special features. I'm grateful that someone wanted to give these old movies a new life. It is not something I ever imagined happening.
So far, critical reception has been pretty positive. Again, as I said before, these films are polarizing -- you either like them or you don't.
With both The Abomination and Repligator being horror/monster movies, is that a genre you're at all fond of, and why (not)?
I always dreamed of making nothing but horror films as a filmmaker. The reality of the business end of the equation was that most of the distributors I dealt with wanted bland action movies that they could sell in as many foreign territories as possible. For a good many countries in the VHS era, horror movies were simply not an option. Even in the UK The Abomination was labeled a 'video nasty'. The only strong markets for horror in the mid-80s were the USA and Japan. I made other sorts of films out of the financial necessity of providing for my family with whatever work was available to me.
Re-watching The Abomination and Repligator now, how does that make you feel, and how do you think you've evolved as a director, both between the two films and since?
I enjoy seeing Repligator a lot more than The Abomination. They both have their place, both have their fans, but at the end of the day they are films that were made for very little in an attempt to cash in on the exploitation elements. They hold up very well compared to works by Troma, Fred Olen Ray, Al Adamson [Al Adamson bio - click here], Jerry Gross and a host of other schlockmeisters. I loved making them. I'm gratified that there are people who still want to watch them. I think there's a huge difference between Repligator and The Abomination.
Any future projects you'd like to share?
I'm currently retired and have a lot of free time. Thanks to the accessibility of digital technology I can dabble in filmmaking and not spend a lot of money doing it. That is one major difference between the 80s and 90s and today. I'm hoping to shoot a no-budget horror film later this month. I want to try to give it a sort of 'giallo' flavor. We'll see how it turns out. My old time collaborator, Randy Clower, has agreed to play the lead. Brett Piper [Brett Piper interview - click here] has agreed to create the monster, so I think we're on solid ground there! I love Brett's monsters. I've been a fan of his work since the early 80s.
What got you into filmmaking in the first place, and did you receive any formal training on the subject?
I read an article in Famous Monsters of Filmland magazine about some boys in New York who were making their own monster movie using 8mm home movie gear. Lightning struck! I knew I could do that and I wondered why I'd never thought of it before.
I studied film production under Andy Anderson at UT Arlington. Andy had a brief period of fame as a filmmaker after producing a movie called Positive ID. Later I took a year-long course in film production at Brooks Institute in Santa Barbara, California.
Your question makes me want to address an issue I've often confronted -- just because someone makes a movie like The Abomination doesn't mean they don't know how to do a 'real movie' or a slicker production. More likely it means they are compelled to create something and they are using whatever means are at their disposal to satisfy that creative urge.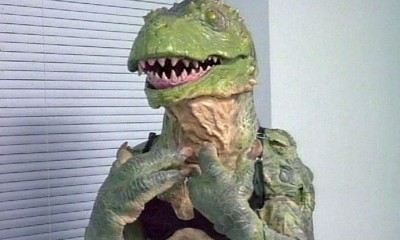 I am compulsively creative. I write books and short stories, I paint and I dabble in video production. Always what I produce is at least partially shaped by resources. When I don't have canvas, I paint on scraps of plywood or even cardboard. Writing requires few resources other than a vivid imagination, so I do a lot of that. My latest anthology, Crimes of Hate, was just released by Hellbound Books. My movies, such as they are, display whatever resources were available. I think Mark Polonia put it very aptly when he said, "Give me 40 million Dollars and I can make a movie just like anybody in Hollywood. But give George Lucas or Francis Ford Coppola three thousand dollars and they can't do anything."
What can you tell us about your past filmwork besides The Abomination and Repligator?
I did a lot of movies between 1984 and 1996, including a couple of Dallas productions I put together for Fred Williamson. The list of my work on IMDb is fairly accurate -- although the other Max Raven, the guy who was in Casino, is not me. This has created some confusion. Max Raven is a pseudonym I've been using since high school. I had no idea there was an actor named Max Raven until IMDb. Incidentally, I've never contributed to the data on IMDb. Didn't know the site existed until Fred Olen Ray told me I was on there after I made Macon County War for him. How my data ended up there is something of a mystery to me since I never instigated any of it.
Visual Vengeance is putting out several of my old movies, especially on streaming venues like Tubi. I think they've got Highway to Hell, Ozone - Attack of the Redneck Mutants, Tabloid!, Time Tracers, Biotech Warrior and Reanimator Academy (sigh). A couple of films I did for David Winters at Action International Pictures, Armed for Action and Blood on the Badge, are available on Tubi from FilmRise.
For years I had a bit of mystique surrounding my work because there was a lot of it but it was hard to find. Now it's all pretty much readily available. No more mystique. Everyone can judge for themselves.
How would you describe yourself as a director?
I'm a very laid back director. People who work with me have alluded to my Zen-like approach. My films were all done on terribly low budgets. Some of them work better than others. In many ways my career mirrors that of Larry Buchanan. I set the ball rolling and trust my accomplices to contribute to the best of their abilities.
Filmmakers who inspire you?
I was inspired by Larry Buchanan, Fred Olen Ray, Roger Corman [Roger Corman bio - click here] -- these were the guys who showed me something I felt might be attainable for a young filmmaker in Fort Worth. Tobe Hooper inspired me but I knew from the start I was not the genius Hooper was. Sergio Leone, Mario Bava [Mario Bava bio - click here], Ridley Scott and many others inspired me in the sense that they kept me in love with films and the craft of filmmaking.
Your favourite movies?
My two favorite movies of all time are The Good, the Bad and the Ugly (I've watched it something like 30 times) and Michael Clayton (starring George Clooney, which I've seen like 5 times so far). These are examples of movies I can watch and rewatch without ever growing tired of them. Naturally, there are hundreds of movies I view favorably but for most of those a single viewing is enough.
... and of course, films you really deplore?
I am like a swine when it comes to movies. Put it in my trough and I'll devour it. I pretty much like everything. The only time I 'deplore' anything is when I see movies being used in a jingoistic fashion to make the public feel good about abuses like the war in Vietnam or to promote conservative ideology (examples: The Green Berets with John Wayne or that atrocious movie with Woody Harrelson and Kevin Costner about the guys who killed Bonnie and Clyde. They played so loose with the facts in that thing that it just made me groan. During the Great Depression, your average man on the street was more inclined to cheer for a bank robber than to side with bankers and law enforcement. The main reason shows like Dragnet were promoted so heavily on radio and TV in the 50s and 60s is because ordinary people like my forebears had really bad experiences with police in the 30s and did not trust them).
Your/your movies' website, social media, whatever else?

Feeling lucky ?
Want to
search
any of my partnershops yourself
for more, better results ?

The links below
will take you
just there!!!


I have a simple little WordPress webpage for people who want to buy signed books and DVDs directly from me. That site is https://texasschlock.com/
Anything else you're dying to mention and I have merely forgotten to ask?
Thank you, Michael, for helping us get the word out about these Visual Vengeance releases of my work from decades ago. I love your site and the wealth of information I find there. I admire your dedication to providing the data for which film fans like myself are so hungry!
Thanks for the interview!