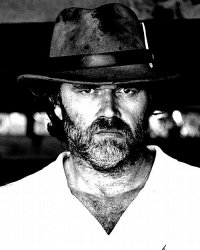 photo by Charlie Murphy
I think it's a fair assumption that most people know you from playing Leatherface in Texas Chainsaw 3D - so do talk about that movie for a bit, and what was it like playing such an iconic character?
It became a very surreal experience. It was a very involved thing to get into the character, and then when it was over, I stood back and thought, "Holy crap, how'd that happen?" Nobody sets out to be iconic. The weirdest thing is to see a billboard with Leatherface looking all menacing and then have someone, as if on cue, ask, "So, what do you do?" And you can just point. It's pretty damned cool.
I heard you have actually seen the original Texas Chainsaw Massacre in a drive-in all these years back - what are your memories of that, and in what way did that influence your performance?
The totality of the undertaking really sank in when Texas Chainsaw 3D was released and I went back to Vegas to see the family. I was feeling nostalgic (I spent my high school years there) and went to the drive-in where I saw Texas Chainsaw Massacre in 1981. I saw my movie on the marquee. I honestly never thought about the original movie while we were shooting. I was deep into the whole process. I remember sitting on the hood of a car, trying to take in what was on that screen. I eventually had to buy the VHS tape. It was an obsession for a while.
How did you get involved with the movie in the first place?
The producer was a friend of mine. I was around during the development of the script. I hadn't realized I was an inspiration for what the character should be physically. They realized in their story meetings that, as they were describing what Leatherface should look like (big, hulking farm-hand, whose strength and physical presence came from working, rather than working out) they were describing me.
Do talk about the actual shoot for a bit!
It was over 100 degrees every day that summer in Shreveport. I was lucky in that Leatherface worked mostly at night. I had never shot in 3D before. It took us a while to develop a technique for hitting marks, especially with the chainsaw, to make it look right. 3D is really time consuming. So many things can go wrong in a take. And once we did get the shot, it took quite a while to disconnect the 26 cables from each camera and move them to the next setup.
Based on your experiences on Texas Chainsaw 3D, will you ever return to the character of Leatherface?
If they decide to continue the story we've started, yes, I'll be there. If they decide to do a prequel, then no.
Any (other) future projects you'd like to share?
I have a short and two features in development. The short is based on a true story of an old man whose cat comes back from the grave called The Gospel of George. One of the features is called Zombie Bear Attack. You can guess what that's about. The other is called Brains - a zombiesque action flick about a disease that makes body builders and winos and religious zealots crave human flesh.
What got you into acting in the first place, and what can you tell us about your training as an actor?
I started in Vegas. I went to a vocational high school and learned architectural drafting, but there were no extra-curricular activities like sports or drama club. So after graduation, I had all sorts of pent up need to show off. I joined the Community Drama Workshop and started to learn the basics of acting. I also did extra work at that time. I moved to L.A. to do architecture, but found my way into a few amateur theater projects. I did the odd workshop, too, but didn't get serious about it as a career until 2009. I studied with Joel Asher, Frank Tammariello and Jeff Celentano. I've also taken a few writing courses at AFI and elsewhere.
What can you tell us about your filmwork prior to Texas Chainsaw 3D?
It was mostly helping friends make their movies. I did a few commercials through the years, and extra work way back when. It was inauspicious at best.
Besides movies, you've also done quite a bit of theatre throughout your career - so how does performing on stage compare to acting in front of a camera, and which do you prefer, actually?
There's not a lot of comparison, other than the development of the character. Once you have that, stage is a far more direct process of playing it. In film, it is so technical, that you have to focus on being physically precise, without looking like you're being physically precise. If you're off your mark on stage by six inches, nobody cares. You're not thinking about that so much. If your off your mark in film by an inch, you can easily blow the shot. I enjoy both processes. I tend to focus on film more.
How would you describe yourself as an actor, and some of your techniques to bring your characters to life?
I tend to play physical roles. It's a process of becoming comfortable (or uncomfortable, depending on the character) with who he is physically. Then, I go through the torture of learning the dialog. Then I forget it and try to discover it in the moment. It's terrifying to get up there, in front of a camera or an audience, and not know what's going to happen. But that's also really the thrill of it as well.
Besides acting, you have also done quite a bit of writing, right? So what can you tell us about Dan Yeager, the writer? And do talk about some of your past/present/future writing projects for a bit!
I must be a masochist, because I find writing an even greater torture than acting. I'm working on a screenplay that's a kind of home invasion thriller. I want to shoot it in my house with my wife. It should be fun, but the writing is a grind. I have a few other stories I'm working on; some for several years. I am doing research, which seems to take the most time. Whenever I get really stuck on the screenplays, I'll pick up my book, a treatise on the art of bartending, and work on that. If that doesn't work, I go build something. We have a nice front fence now, that I built while trying to write Zombie Bear Attack.
Someone also told me you've got quite a fondness for books - care to elaborate?
I've collected books since my childhood. I collect mainly the artifact of the book itself. I love old bindings. I have thousands. Last time we moved, they filled over 160 banker's boxes. Brains yielded a library in our current house. My oldest book is a French Bible concordance from 1552. I also have quite a few hundred volumes printed by Roycroft, an American publisher from the late 19th/early 20th Century.
Actors, writers, filmmakers, whoever else who inspire you?
Stanley Kubrick is the best represented director in my DVD collection. Peter Bogdanovich made one of my favorite movies, Paper Moon. David Lean, Akira Kurosawa, Fritz Lang, F.W. Murnau, W.C. Fields (It's a Gift) [W.C. Fields bio - click here], Stan Laurel, Charlie Chaplin, Billy Wilder; I could go on. James Whale's two Frankenstein movies and The Old Dark House are wonderful. I think Truman Capote was the greatest American writer. The Brits still haven't topped Shakespeare, though there are many other English greats. Twain was no slouch with a pen. My favorite poet is probably Robert Frost because I'm just a sentimental fool. This was a can of worms you opened with this question.
Your favourite movies?
Beside those mentioned above, I'd say: Yojimbo, Laughing Gravy, Min and Bill, Grand Illusion, All That Jazz, Jaws, Alien, Texas Chainsaw Massacre, Metropolis, Night of the Living Dead, Count Yorga Vampire, Slingblade, Cool Hand Luke, The Hustler, Marty, Girls Will Be Girls, Amadeus, Le Mans, A Fistful of Dollars, The Shining, The Matrix, THX1138... This list is by no means exhaustive.
... and of course, films you really deplore?

Feeling lucky ?
Want to
search
any of my partnershops yourself
for more, better results ?

The links below
will take you
just there!!!

Find Dan Yeager
at the amazons ...

amazon.com

amazon.co.uk

amazon.de
Looking for imports ?
Find Dan Yeager here ...
Something naughty ?
(Must be over 18 to go there !)

I used to say that Tarzan The Apeman with Bo Derek was the worst movie I'd ever seen. Her acting was so bad (there was really nothing she could do with that script) that it made it impossible to even enjoy her nudity; but then I saw that terrible thing Liam Neeson and Catherine Zeta-Jone did called The Haunting. That was a steaming pile of movie that should never have been made. Other than those, I've always found something redeeming in every movie I've seen. I have a DVD of Bitches Taste Good. It's terrible, but I love the title.
Your website, Facebook, whatever else?
www.facebook.com/officialdanyeager
@danleatherface on Twitter
Anything else you are dying to mention and I have merely forgotten to ask?
Thank you for all the great questions. I hope I answered them all adequately without droning on too long. Support your local bookstores and theaters!
Thanks for the interview!
My pleasure.