Your new movie Window Seat - in a few words, what is it about?
Window Seat was made to be a live action chamber piece in the vein of the hard theater of yore, from Albee to Mamet, LaBute, Chayefsky, or Roman Polanski's Knife in the Water. It is about three people on a plane, and all the tension is drawn from this. The magic trick is that everything it delves into, bullying, the scandal, the whole shebang, is all psychological, you never question that the film is all mental. To me this is the best aspiration a writer can realize on screen.
What were your sources of inspiration when writing Window Seat, and is any of it based on personal bad flight experiences or the like?
I would say it is both complete fantasy - and directly autobiographical. I was always thinking Thom is me and Raiden is God. Things like Thom shouting at his girlfriend "stop getting involved, you make things worse, go away," are lines I said directly in the production of Aimy in a Cage. I am open about using real life as fodder in art, it is the one venue that the individual's experience not only matters but is its very subject, à la Woody Allen films. Just like Raiden is in a position to tell the truth about Thom, Window Seat is positioning itself that way as the "first AI movie", precisely in this manner to tell the truth about reality, about people, about filmmaking.
One thing that is interesting is there are actually three character models for Raiden in this film, but no one has ever complained about this. He is so blatantly multiple people, but no one cares. How did I get away with that? The film is pushing so many magic illusions of cinema that is directly reflecting upon what it is. As Raiden said, "It was never real."
Window Seat was made entirely by AI - to ask quite bluntly, why?
Joe Russo said we are two years away from the first AI feature film. I was just the only one petty enough, and hungry enough to do it at the current iteration of the technology or to realize it's actually possible now. Now the film, in the current state was only possible, as you said in the review, because I turned the limitations of the technology against itself. I was inspired by Beatles animation, Monty Python, by classic Japanese animation like Belladonna of Sadness. So I am sure Russo was talking about an AI Spider-Man when he said we're two years away—and there is a new thing in the world that we deny the existence of the arthouse, and that box office and viewership numbers represent the objective metrics of filmmaking; and yet these people will always fill their personal greatest films lists with art films and indie films, you know, the very thing they don't support and pretend don't exist.
Do take us through the process of what it takes to make an AI movie! And how does one "direct" artificial intelligence?
Remember I have done it the old way, with a crew of thirty and twenty union actors in 2014. Aimy in a Cage had a $500,000 budget. Window Seat had a $190 budget and was made by just one man. So I can tell you, unless they make AI filmmaking illegal through regulatory capture, the film industry just can't compete with $190. It is not just that you are limited by reaction shots and performances by time in tradfilm (an indie film will cost $25,000 to $50,000 per day of production with a finite schedule), but then you are stuck with what you shot in the editing room forever. I spent one and a half years editing Aimy in a Cage. Window Seat was edited as it was generated in three weeks total.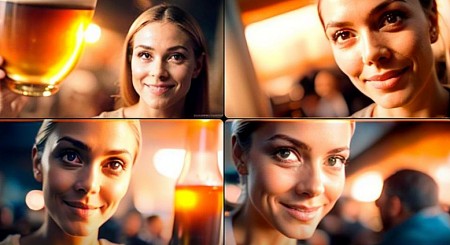 Yes there are limitations. I had to sometimes generate the same line for over one hour before it got an intonation correct. There is no dial yet you turn for more rage, for sarcasm, for humor. You just click it over and over again until it gives you a reading you like. Lip motion. I had to generate video 100 times to get lip motion, and some characters never gave lip motion. I have been trying for weeks—in fact, I tried today, and I still can't get it for certain shots.
I will say that because this was the first AI feature film, I didn't mind to play up the flaws to remain a record of early AI films; but what I aim to do going forward is attempting to meet the audience's demands for invisible craft. Window Seat is a one of a kind meta film for me.
What are the advantages but also challenges of making an AI film?
Point is, you are only limited by eternity. The limitlessness of AI filmmaking gives you millions of opportunities to get the perfect shot or intonation. That is not only huge, but it single-handedly makes tradfilm obsolete. I find that the younger generation, when you tell them something amazing, they shrug and go, so what? They would not even be impressed if you can step into portals into another universe. So these benefits of AI fall on deaf ears. Is the film good or not? That is what people will care about.

From a writing standpoint, I looked at my slate for another Window Seat and I couldn't find one. The central concept of the bully carries a psychological weight larger than the screen, comparable to Aronofsky's The Whale. It's going to be a one of a kind movie for me because I'm not really a hook sort of writer. From a filmmaking standpoint, it's these iconic expressions and reaction shots. I could never get these from actors.
What can you tell us about Window Seat's look and feel, and to what extent was that informed by the use of AI?
So whatever are the limitations of the video—and to a lot of non-creatives, the kind who use 'art' as a pejorative, and believe the low-fi video is a dealbreaker—I want to put forward one thing. There is nothing stopping Window Seat 2.0 or Window Seat 3.0 as the tech improves, so the rejection of low-fi video is not an indictment of the artist. However, what a lot of people found, like RFK jr's voice, you forget about the video limitations, you embrace it. This is because I am a student of film history. All the limitations of this tech were figured out a century ago. We went forward and backward at the same time. This is the impressive thing to me is you reach this sweetspot moment that the craft disappears. Suddenly, the movie feels like a bonafide black and white indie film, like Atom Egoyan or something.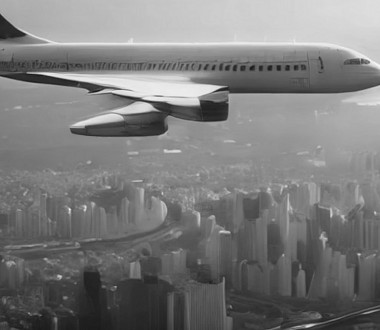 Regarding the look and feel of the movie, this was only possible by closing the matte and making it black and white. This let me cut off 33 % of the frame to get rid of any bad bits of AI, the glitches… for example, she was cross-eyed in one of the shots, that I could just move half her head over into the matte.
The $64-question of course, where can Window Seat be seen?
I raced to get the movie out on July 21 as a protest against the Hollywood excess of Barbie and Oppenheimer, these films with their massive budgets ought to be a crime against humanity. There was a point such a thing, these collectives egregores and tulpas of capitalism floating around like monstrous parades. Today no one questions any of it or thinks what is wrong with you? Instead they wear it like a mask. We are consumers, it is the very oil of the human soul in this realm, but it is an ugly thing as it interfaces with entertainment. The collective viewing habits are a dark, not uplifting thing. So when people were talking about Ryan Gosling's outfits, I had a link to the first AI movie up, and it is a feeling I will never be able to accurately describe. It is the most powerful emotion I have ever felt. It was like having alien technology. And people were spooked. I was spooked.
My friend later said, it does not matter who is 'first', because AI belongs to everyone. But this concept is self-selecting. For me, it mattered, because it was an endeavor made from an expression of both bitterness against the film industry, simultaneously, it was made from an impulse to not take no for an answer. The idea that AI belonged to everyone did not matter in that moment, because 'everyone' did not have a feature.
It was a war against reality, and for a moment... reality will win every time, except that moment. That drive had made me right for it in the eyes of the cosmos, and it is hard to wrap one's head around this unless they know about my journey, so people assume it is some gigantic ego trip.
The movie had been marketed hard as the first AI feature film, but it is in fact the first. There was another production that put out a press release that it was going into production, but it was a big sci-fi movie that did not materialize in time to beat Window Seat to market.
Let me put it this way, because it is a film with a story, with characters, that crosses a threshold of artistic competence… I am not talking about a one hour project on some guys computer with still images and narration, but an actual filmmaker's film brought to market with performances, story, editing, mise-en-scene, and scripting. Why this matters, it is the very thing itself. You cannot separate Window Seat from its symbolic making.
Anything you can tell us about audience and critical reception of Window Seat?
It is the most hate I have ever experienced in my life. The trailer was banned within two minutes on Reddit. I have never faced this much opposition before. My attitude was always that I would drink their tears, but their tears had been poisoned. One guy helping to publicize it immediately resigned the second the first hate comment came in. Two of my film business friends of almost ten years blocked me because they were offended that I made an AI movie. Some of the public, it was like dealing with actual zoo animals.
The world asks change in all of us, and we oblige reluctantly, while the trad filmmakers are unable to wrestle with the blows of life that is demanded from all of us. They ought to embrace this like we all must. So Window Seat is not a Walt Disney early experimental animation for the whole family, it is a declaration of war against the system they are clinging to, the system of the rich hoarding the ability to make art like some heirloom they pass on to their relatives. The system pushing director by committee, treating low frequency opinions like objective fact and the box office totals like a sports score. That has nothing to do with art or filmmaking. That is playing solitaire on death row, counting down the minutes to their doom distracting themselves with pea-brained nonsense. So Window Seat is not a happy movie, it is not happy to be the first, or be born at all. As Addison says in the film, "I need you to cut this bastard to shreds. This is personal, this is a long-time coming. Do not get in the way."
Any future projects you'd like to share?
I am working on a medieval horror film called The Mass, on AI, because I want to continue to legitimize this craft. The philosophy going forward is, Window Seat was okay to play up the limitations in a tongue-in-cheek way. But I want to represent the medium to the cutting edge which means we do have to figure out hairstyles, clothing, and continuity.
Your/your movie's website, social media, whatever else?
I am on all the social medias, so add me, make up for the ones who blocked me for making this movie!
Anything else you're dying to mention and I have merely forgotten to ask?
I have come to see a lot of the viewing public does not identify with Hollywood movies, they identify with Hollywood itself. And I do not see it as easy as we hope. Filmmaking will resemble what the publishing industry has become, where there are tens of thousands of authors, some even make an incredible living, but they are trapped in an island unable to reach any kind of mainland.
As well the elitism of tradfilm and the industry will only deepen. We may see a total blackout of AI filmmakers, that it will be a silent agreement among critics, distributors, and festivals, that AI filmmaking is not real filmmaking and that the people who work in it are the enemy. By then, there must be a parallel underground film movement, which will eventually become the new film business.

Feeling lucky ?
Want to
search
any of my partnershops yourself
for more, better results ?

The links below
will take you
just there!!!


Meanwhile, I have already gotten the "you are not a real filmmaker"-card, and I made Aimy in a Cage, so I am convinced it's not just that you have to make Spider-Man movies to be considered a filmmaker, but that you have to make the next Spider-Man movie to be considered a filmmaker by them.
Ultimately, what is even bigger than being "the first AI movie" is the concept of one person being able to make a film with no one else involved. AI filmmaking becomes more meaningful when you realize it is not made by machines, but that the director is everyone and everything in the movie, wearing the machines like gloves. The question then is not, is AI filmmaking real filmmaking, but is tradfilm real filmmaking?
Thanks for the interview!
Thank you for your support and for your support for indie filmmakers over the years!