Your new movie Der Aids-Tempel Wat Phrabatnampu - in a few words, what is it about?
The movie is about a unique temple compound located in Thailand which has gained international attention while being very controversial at the same time.
How did you first find Wat Phrabatnampu even, and what drew you to its story?
Due to its reputation I already knew about the temple before I started shooting Mondo Siam. It was one of the places I really wanted to visit. It is located in Lopburi which was a true blessing for me because it had so many sights. There was not only the temple compound, but there was also Phra Prang Sam Yot – the monkey temple, which I used for the movie Lopburi.
I tend not to do too much research actually because it might change my view about a location. The discovery process is very important to the experience and this is what I want to share with the audience. The same way I have a voyeuristic lust I also have an exhibitionist lust. The temple itself kind of reflected that by explicitly displaying the dead – victims of aids. This was interesting to me so that's why I made the movie.
Much of the footage in Der Aids-Tempel Wat Phrabatnampu has previously already appeared in your short Mondo Siam - so what inspired you to give the temple some more coverage?
I approached this from a low budget filmmaking standpoint for several reasons:
Mondo Siam was made exactly as I wanted it (with the resources I had) – an experience, a mondo film, a documentary, which basically doesn't answer any questions, but for the purpose of appeasing the lust of sensationalism and to awaken the curiosity of the viewer to do his own research. A movie has the power not to leave the viewer even if there are unanswered questions.
My approach for the new short was a bit different. I wanted to make the movie a little bit more accessible to a mainstream audience. The overall material was also just too important not to go further into detail especially since my movies are predominantly only available in the US at the moment. It was a way to basically make a light version of the Mondo Siam episode. What might be interesting is that this version is not a recut of the Mondo Siam episode but I edited from scratch on purpose. This kinda had experimental reasons for me. I wanted to see if I could use the material differently from the way I originally shot it. Would I have evolved as an editor? Would it become a different story discovered in the editing process? Is there even a way to edit it differently? Another idea behind it was also to look how it would end up if I would try a more mainstream approach on that theme. How would Mondo Siam look if it would be a regular mondo documentary instead of a non-verbal movie? So as mentioned before it was mainly for experimental reasons and also because I just had the feeling I wasn't done with it yet.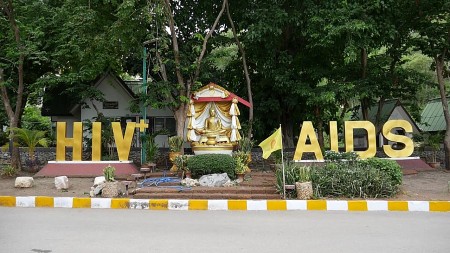 But I have to say that I tend to have multiple projects in the making in different phases at any time and at this particular time I worked on another movie which was a pain in the ass for me and I desperately looked for excuses not to work on it. Because of it I made the three shorts Der Aids-Tempel Wat Phrabatnampu, Wat Sorapong and Überfall.
While most if not all of your previous documentaries did not have any narration, you chose to use a voice-over in Der Aids-Tempel Wat Phrabatnampu - so what led to that decision, and what can yout ell us about the movie's voice-over as such?
As already said I wanted to take a more mainstream approach while not disguising myself as something that I am not. I am not a teacher and I don't want to be seen like this. The narration is very rudimentary and superficial. Maybe even clinical. My movies are based on feelings and I can express myself better in pictures than in words.
How would you describe the look and feel of your movie?
I wanted it to have a very natural look, which wasn't too complicated to create because the only equipment I had was a broken tripod. I think it's important to turn your weaknesses into your strengths. Technically there wasn't much to do to improve the look so I only could use it thematically throughout Mondo Siam and the short. I try to find and display beauty in ugliness and the ugly in beauty. This is something that follows me through many of my movies.
What can you tell us about shooting at Wat Phrabatnampu?
Thailand is generally very open to filming, and there were few locations where it was forbidden (Siriraj Medical Museum for example). At Wat Phrabatnampu I was actively urged to shoot.
The $64-question of course, where can Der Aids-Tempel Wat Phrabatnampu be seen?
It can be watched on my YouTube channel for free: youtu.be/Q7qnFFcpc90 – it will probably end up as bonus material on a physical release too. The more explicit, unnarrated version is available at putridproductions.bigcartel.com/product/mondo-siam-vile-video-productions-dvd-5 in the US.
Anything you can tell us about audience and critical reception of Der Aids-Tempel Wat Phrabatnampu?
There weren't too many voices about it yet, except a very, very great article in interview form which goes very in depth: da-ma-ru.de/2021/07/19/wat-phrabatnampu-ein-neuer-film-von-rene-wiesner/ (German only). If there is noteworthy resonance about the movie then I will maybe release my other temple film Wat Sorapong starring Sorapong Chatree (known from many Godfrey Ho movies [Godfrey Ho bio - click here]) on YouTube too.
Any future projects you'd like to share?
I still have to edit my semi documentary movie Warum läuft Herr W. Amok?, which is a long interview with actor Jörg Wischnauski, who starred in a couple of my movies. We speak about all the movies he made and how basically none of them have been released yet, and in the end the situation gets out of hand. It will contain clips of a couple of yet unreleased projects by Marian Dora or myself e.g. Obsession. A short of mine which will unfortunately stay a festival film due to a rights issue. And next week I will start work on another documentary short. It will be the portrait of an older Thai widow who barely speaks any German and has almost no social contacts. The focus will be on the woman but it will also be a portrait of the town she lives in. I also have vague ideas about a new fictional feature film.

Feeling lucky ?
Want to
search
any of my partnershops yourself
for more, better results ?

The links below
will take you
just there!!!


My feature length documentary Michael, Sammler will be released as Michael: A Murderabilia Memoir in the US soon.
Your/your movie's website, social media, whatever else?
Anything else you're dying to mention that I have merely forgotten to ask?
I am working of German releases of my movies on DVD. Hopefully it won't take too long until the first results. It only takes so long because I see myself as a filmmaker and not as a a publisher.
Thanks for the interview!