Your new webseries Dead Kansas - in a few words, what is it about?
Dead Kansas is a five-act post-apocalyptic zombie web-series. Our main heroine, Emma, lives on a boring farm with her father. Her day consists of shooting Rottens (aka: the zombies) and picking vegetables. Meanwhile, a ruthless band of survivors, lead by Jebediah, make a plan to kidnap Emma to sell her for a big profit. After a wicked tornado hits the farm, Emma's father gets bit by a Rotten. She must go out on a journey, into the unknown to find help. Along the way she meets oddball characters and has several run-ins with Jebediah. What happens next, well, you'll just have to see for yourself.
Why zombies, is that a genre at all dear to you, and some of your genre favourites? And what do you think makes Dead Kansas stick out of the crowd?
Yes, I love zombie films. I love horror, sci-fi, and fantasy too. In fact, I love all types of films. Some of my favorite horror films include: Night Of The Living Dead, Evil Dead II, Nightmare On Elm Street, Halloween, Psycho, Fright Night and Basket Case.
I'm also a huge fan of the TV Series The Walking Dead. I think they are doing an excellent job with the zombie genre and I love where the show is going. With Dead Kansas, we didn't want to copy their style. In fact, Dead Kansas is very, very far from Walking Dead. Dead Kansas is more "family-friendly". Its not as dark and there is very little blood and gore. We also made a conscious effort not to have cussing in it.
The reason my zombie film sticks out from the crowd, is because we don't actually show the zombies. They are simulated via Point Of View by the camera. The actors would react to the camera as if it were a zombie. The POV shots are also done in black & white, with an echo-like sound overdub. We figured the zombies would be color-blind. To my knowledge, this is one of the first zombie films to extensively use the POV approach.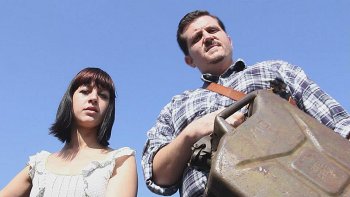 Alexandria Lightford, Aaron Guerrero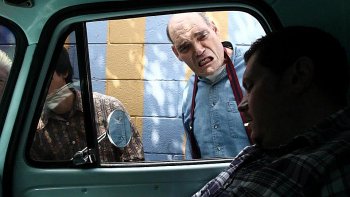 Irwin Keyes
One can't help but notice quite a few Wizard of Oz-references in Dead Kansas - care to elaborate?
Yes, there are several Wizard of Oz references in Dead Kansas. Wizard of Oz is another one of my favorites. It's just one of those perfect movies that can never be re-made. However, we (very subtly) borrowed from the film. Many of the characters, locations, and plots are similar to the 1939 film.
What can you tell us about your co-writers and the actual writing process?
This is the first movie I ever directed and wrote. I produced it too. Writing the first draft went pretty quick. But we took time in going over it, over and over again, to make it well-polished. I always had a rough time with the middle act (Act 3 of the web-series). Emma meets a lot of new characters at that point - I think four within a couple pages. I ended up moving Skinny's character from Doctor Emerson's house to the Freak Show. And I moved Leo's character from Doctor Emerson's house to reluctantly be part of Jebediah's gang. It worked much better that way.
How would you describe your directorial approach to your story at hand?
In terms of how the shots were set-up, I was pretty firm. I knew what I wanted and didn't want. However, when it came to the actors, I gave them free range to change the dialogue a little bit. Dead Kansas has a lot of characters in it. To make each one unique was a challenge. Basically, I gave them the script and if they could say the line in a better way, I was all for it.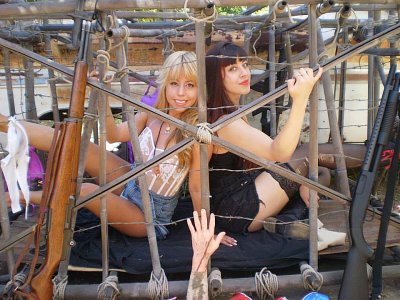 Erin Miracle, Alexandria Lightford
Dead Kansas' lead character Emma changes actress about halfway through - so what can you tell us about that, about both your leading ladies Alexandria Lightford and Erin Miracle, and what did each bring to the table?
I think both ladies did an equally excellent job as Emma. We filmed the first two Acts with Alexandria. At the end of the second act, she announced that she was pregnant - a few months in actually. By the time we'd be starting the third act, I think she would've been showing too much. Plus, I didn't want her to over stress herself with the film. After much debate, we ended up changing the lead actress mid-way through the movie. Erin Miracle was our choice. They both bring different sides to Emma. This isn't the first time an actress has been changed in a movie. In fact this has happened in some of my favorites: Back To The Future, Dark Knight, Matrix, Hannibal, etc. On the bright side, now there are two beautiful women in the film!
What can you tell us about the rest of your cast, and why exactly these people?
Making a film can be expensive. It is also very, very time demanding. Many of the actors in Dead Kansas are my close friends. They are the only ones I knew I could count on. For most of them, its their first time out-the-door doing acting. I think they all did great jobs. In fact, Kevin Beardsley plays two characters in the film. Can you spot him?
I've seen Joe McQueen around at comic book conventions. We'd always say hello and talk briefly about the scene. One day I saw him in a documentary called Confessions of a SuperHero. It follows several of the dress-up characters from the streets of Hollywood. To my surprise, Joe was one of them. He played the Hulk. Joe confessed that he came out to Hollywood to become an actor, but no one gave him a chance. That resonated with me. When the time came, I cast him as Skinny. He did an amazing job. Always knew his lines and gave off great emotion.
The other genre actors such as Irwin Keyes (House Of 1000 Corpses), Ben Woolf (American Horror Story: Freakshow) and Juliette Danielle (The Room) came as a blessing. They were fans of the first act and agreed when I asked them aboard. I was very fortunate to have a well diverse, talented cast.
Do talk about the shoot as such, and the on-set atmosphere?
There are many locations in Dead Kansas. Some of them were pre-arranged, and some of them we shot guerrilla-style around the San Fernando Valley. Depending on how long we could film, and the weather, determined my stress-level. The Freak Show scene (Act 2) was shot at a circus-themed bar in North Hollywood. We only had four hours to shoot there. In film time, that's very short. I directed that at a machine gun rate - one or two takes each shot. Jebediah's base was filmed at my long-time friend Adam Ledezma's house. He also co-produced and co-directed Dead Kansas. Those scenes were much less stressful, because we had the time to get it done right.
Sound was also an issue. Being in an apocalypse, you'd figure there wouldn't be any passing cars. Unfortunately, we shot Dead Kansas in the city. So as you can imagine, there'd be helicopters flying overhead, car alarms going off, lawnmowers, people talking, gun shots, dogs barking, etc. etc. Those sound nuisances drove me crazy. Fortunately, our sound editor got a lot of that out.
A few words about critical and audience reception of your movie so far?
The budget restraints usually get brought up, but overall the verdict is that people really like the film. We've won several awards from the film festival circuit and have been on many radio shows and podcasts. The Dead Kansas DVD was also part of the Saturn Awards gift bags. The Saturn Awards are like the Oscars, but honor sci-fi, fantasy, and horror films.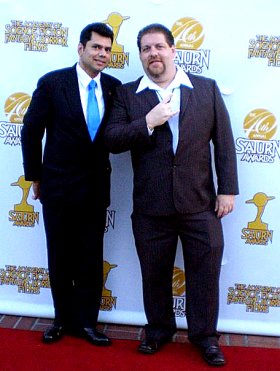 Adam Ledezma and Aaron K. Carter
at the Saturn Awards
With the ending being open, will there ever be a sequel to Dead Kansas? And other future projects you'd like to share?
I'd love to continue the series. Gosh, there are just so many directions it can go. We've talked about focusing on Jebediah and his quest for the cure. Perhaps he becomes the hero / good guy?
What got you into filmmaking to begin with, and did you receive any formal training on the subject?
I've always loved going to the movies. My parents had little restriction on what I could and couldn't watch. Naturally, I was attracted to sci-fi and horror. When I made my way to college, I took a lot of film theory courses. I learned a lot, but was unhappy that they focused so much on the "classics": Citizen Kane, Casablanca, Yankee Doodle Dandy, etc. No offense, but I really just didn't care about those. I wanted to learn about "my" movies in school. I ended up having to do that on my own time.
Where I really learned about how "the industry" works is when I was a page (aka: usher) for the TV shows. Basically, we'd move the audience members into their seats, and took them to the bathroom during cuts. That experience taught me more that any school could. I was literally watching how the pros did it live.
Filmmakers who inspire you?
Steven Spielberg, Robert Zemeckis, Francis Ford Coppola, Sergio Leone, Clint Eastwood, Tim Burton, Quentin Tarantino, Robert Rodriguez, Sam Raimi, George Romero, Wes Craven, Don Coscarelli, Alfred Hitchcock, Stanley Kubrick, John Carpenter, Tommy Wiseau ... the list goes on. There are so many great ones.
Your favourite movies?
There are simply too many to name. Take the directors' films I named above. If you could see my DVD collection, you'd be in awe. I tend to like films made in the 70s, 80s, and 90s. However, the rule can always be broken.
Anything else you are dying to mention and I have merely forgotten to ask?

Feeling lucky ?
Want to
search
any of my partnershops yourself
for more, better results ?

The links below
will take you
just there!!!

Find Aaron K. Carter
at the amazons ...

amazon.com

amazon.co.uk

amazon.de
Looking for imports ?
Find Aaron K. Carter here ...
Something naughty ?
(Must be over 18 to go there !)

Yes, let's talk about the Dead Kansas soundtrack. Adam Ledezma and I were in a heavy metal / punk band called Power Of Aggression. We were active during the late-90s, early 2000s. When a soundtrack was needed, we resorted to the Power Of Aggression demo-tape that we recorded over ten years ago. I think the songs still hold up and go along great with the film.
Your/your movie's website, Facebook, whatever else?
People, Dead Kansas is available for FREE on YouTube. Check it out, no strings attached! People ask why in the world I'd "give away" my film. I'm more interested in getting the Dead Kansas name out there. It's not going to get noticed just sitting on my DVD shelf. Plus, I want to show the world what the actors and myself can do with a little ambition and creativity. Enjoy!
Main website: http://www.deadkansas.com/
YouTube link: http://www.youtube.com/watch?v=7Z37HCFEF7I
Facebook link: http://www.facebook.com/deadkansas
IMDb link: http://www.imdb.com/title/tt2177336/
Thanks for the interview!