Your new short Wakey Wakey - in a few words, what is it about?
Itís about these two guys who arenít the smartest of people and they have a few days to pay back a large amount of money to their former employer. However these guys struggle with the simplest of tasks.
How did the project initially come together, whose idea was it actually, and what can you tell us about the writing process?
Scott Waller the cinematographer, Dan Tonkin the sound guy and I where on a train journey to Newport, and it was literally Ďlet's do a film about a guy that gets stuck in a coffiní. The whole idea came from that and we just went from there.
Obviously with a concept like that we had to make it a comedy so we just started thinking on how we could get a character inside a coffin. How he would get out and what circumstances lead to him becoming trapped. There where a few other things that I had also wanted to do but hadnít been able to in other films, so those concepts went into this film. These included having a female villain, doing a 70ís style kind of film, and having a double act as the main characters. The original idea was to have two pretentious producers who never sign up an act as they always see them crap or not artistic enough, but we never could think of a good enough story.
Your two main characters, dubbed "Two Men, One Brain" - what were they inspired by, and are you planning on reusing them at a later point (and are there actually other films featuring them besides Wakey Wakey that I'm unaware of)?
Brian and Colin where very much inspired by Laurel and Hardy, Black Adder and Baldrick and Father Ted and Douglal. Iíve always enjoyed the kind of comedy duo you get in a lot of comedies, so they where very much based on that idea, but instead of having a smart one and a silly one I wanted them to both be clueless idiots. I think there are more opportunities for comedy moments if you use that formula.
The reason for the ĎTwo Men, One Brainí title was because just after we finished filming the idea of doing a second adventure with these two characters came about, so we wanted to give the film a main title which is ĎTwo Men, One Brianí then have this episodes title Wakey Wakey. Should we do another one then the Wakey Wakey will change.
This is Brian and Colinís first adventure and I would love to use these characters again. We have a few ideas for a second one. Iíll tease you by saying some of the potential title names for the second one are Sheepey Sheepey, Dreamy Dreamy and Scary Scary. Most of the team seem to like the ideas, but we still donít know if it will happen, as getting everyone together again is proving to be a challenge. When I wrote the film I wrote it as a stand-alone film so I donít have a story arc planned out in my head.
Talking about "Two Men, One Brain" - what can you tell us about your two lead actors Oliver Park and Guy DuSade, and what made them perfect for their roles?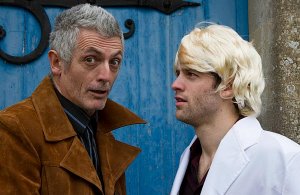 Guy DuSade, Oliver Park
I had worked with both Oliver and Guy on a previous film and in that film they played mortal enemies. However between takes they got on like a house on fire and were really funny together. So when this film came along I knew we needed two male actors who have great chemistry - so I thought of Oliver and Guy. I wrote the script with them in mind and never had anyone else I wanted to play the parts. Had they both said no or only one said yes I wouldnít have done the film. The only hard part was deciding which character they would play, Brian or Colin. In the end I cast Oliver as Brian and Guy as Colin because I thought it would be more interesting to have the younger guy as the leader and less foolish character and have the older guy play the real fool. Usually in comedies itís the other way round so I wanted to shake things up a bit.
Oliver is a fantastic actor. He can play anything, a villain, romantic lead, action hero or comedy due. He also has a very natural quality to him, which is great as a lot of actors you can see the cogs moving, whereas with Oliver you believe him no matter what heís playing. He can also bring in the female audience members! Iím sure he wonít mind me saying that!
Guy I have worked with quite a few times. I think this is my fourth film with him. Traditionally he plays the bad guy, but in real life heís very funny so I gave him this part and I think it was a welcome relief that he doesnít die at the end!
A few words about the rest of your cast?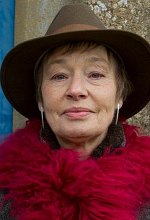 Lois Harbinson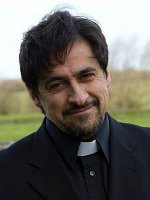 Lu Lanfranchi

I personally think this film has the best casting for a film Iíve done to date.

First off we have Lois Harbinson as our lead villainess Nicole Thorne. In the first draft of the script Nicole was a younger character, however after reading it, it didnít work so it was changed to make her older. I thought Nicole would be better as a Judi Dench kind of character, someone who has a tremendous voice and can control Brian and Colin. I met Lois a few years ago when she was directing West Side Story. Sheís a RADA trained actress so I knew she would be perfect for Nicole Thorne, and she also fits the Judi Dench kind of look. Lois has the ability to make every line sound interesting. She has what I call a ĎRADA voiceí - very Shakespearean. She can also portray a powerful woman who is well respected which is what her character is all about. This was her first bit of acting in years, so she was a bit nervous, however I thought she was fantastic and you can see why Brain and Colin would be afraid to cross her!

Next we have Lu Lanfranchi who is, as you might have guessed, my Dad, as Priest Palin. He had been on at me for years for a part in a film. so when this came along I said to him Ďdo you want to be a priest like Michael Palin in Holy Grail?í He laughed and said yes. Dad has done quite a bit of amateur dramatics but never any filming so it was quite an experience for him. He was incredibly brave as he had to give this big speech in front of about 30 extras, but he got the scene right and didnít let it distract him.

Finally we have Neil Howiantz as Nelson. Again I knew Neil before filming. He normally does Shakespeare and we wanted someone who had a storytellerís voice, so he was right for the part. Nelson is an interesting part as heís purely there to move the story on, so we wanted to have some fun with that. His scenes where the last ones filmed so it was nice to end on a high. Neil is not only a fantastic classical actor but a really nice guy. Neil will tell you that he is typecast playing the bumbling old man, but I swear to you itís just a coincidence in this film!

With Wakey Wakey being a comedy, how would you describe the film's brand of humour? And do you consider yourself a humourous person, and which kind of humour do you prefer, personally?

I think this film is surreal comedy. Iíve always liked things like Father Ted, The IT Crowd or South Park, comedies that are just mad! Thatís what I went for in this film. Surreal comedy is usually what I go for also. I also think itís good to push the buttons also. South Park does it all the time, things you laugh at but know you shouldnít be laughing at. We didnít make Wakey Wakey rude or crude but we certainly made it mad and ridiculous.

I think Iím quite a funny person. People laugh when I make a joke, unless theyíre laughing at me and I havenít realised. My sense of humour is defiantly in this film. Some people will love it, others won't, but comedy is always hard to do, you just have to find what makes you laugh and hope others laugh too. I donít really like things like Ricky Gervais. I find him quite flat and always get the impression heís looking for laughs.

You just have to talk about the retro wigs and fake mustaches your two leads get to wear for a bit?

Well that all started when I was writing. I remember thinking that if these guys break into a shop they are going to try and hide themselves but in a really bad way. If anything they are going to make themselves stand out even more. Thatís where the wigs and moustaches came from. Also because we had the 70ís vibe going on it made sense to have these particular style of wigs and moustaches.

I really liked the blond wig Oliver had to wear. When he put it on I said to him Ďthat has to stay on for the whole film!í I think it suited him. Guy's wig just looked ridiculous! With the moustache it made him look like a 70ís porn star! This whole look also fits with the over the top and ridiculous theme we have for the film also, so it just all felt right to have in the film.

Location-wise, your movie features among other things a funeral home, a graveyard and a church. How easy/difficult was it to get these locations (or did you just shoot guerrilla-style), and what can you tell us about the shoot as such?

Actually they were all quite easy to get hold of. The funeral home is a tepee warehouse next to where I live, so that was easy to get hold of. The church and graveyard was located on a farm about 20 minutes away from where I live. Itís abandoned and on farming land so no one uses it anymore. which is a shame. I knew the farmer who owned it, so I asked him and said yes. Securing all the locations was surprisingly easy for a film actually. I just wish all films were like that!

The shoot itself was quite stress-free. We shot over two very long days, so all was go go go - but went well. The only nerve-racking part was waiting for the extras to arrive. We had no idea how many would show up and if only a few showed up the scene wouldnít have worked. We got quite a few in the end, which was fantastic. Those where the first things we shot so it was good to get the big scenes out of the way as they needed the most time to shoot.

The $64-question of course: When and where will the film be released onto the general public?

The film is all done and dusted. We are trying to get it shown on Comedy Central, as they show short films or sketch programmes late at night. A DVD is available, just check out the Manix Pictures-website to ask for more details. Its also had its premier at ITV studios in Bristol a few months ago.

Feeling lucky ?
Want to
search
any of my partnershops yourself
for more, better results ?

The links below
will take you
just there!!!

Find Adam Lanfranchi
at the amazons ...

amazon.com

amazon.co.uk

amazon.de
Looking for imports ?
Find Adam Lanfranchi here ...
Something naughty ?
(Must be over 18 to go there !)

Any future projects beyond Wakey Wakey you'd like to talk about?
There are a few yes.
Firstly there is a upcoming short film called Elsie & Joe. The films about a dying woman going on a roadtrip with her neighbour. Unfortunately the two of them donít see eye to eye. Itís been written by a writer called Richard Addison and heís done a fantastic script. We just had the auditions and have the two lead actors. We have an actress called Elaine Claxton as Elsie and Oliver Park as Joe. The two of them are going to be fantastic.
After that there is another film which is untitled but itís an action film set in an old quarry and is currently being written by Will Griffin. It should be a lot of fun and we hope to shoot early next year.
Your/your film's website, Facebook, whatever else?
Check out the website www.manixpictures.co.uk
For follow on twitter @MANIXPICTURES
There is also a Facebook page for Manix Pictures.
Anything else you are trying to mention and I have merely forgotten to ask?
Not really, just thank you for watching the film and for the interview.
Thanks for the interview!