You've recently scored the movie Maturing Youth - so first of all, what's that movie about?
About a single man, Roger, who gets interrupted in his apathetic way of living when his ex-girlfriend and son literally appear at his doorstep. She leaves both of them, frustrated at Rogerís lack of initiative and duties. Without revealing too much, the movie revels in the ďworkingĒ relationship between Roger and his son. And whether Rodger lives up to that is something youíll have to find out by watching the film!
Do talk about your score for Maturing Youth for a bit, its style and influences?
I scored Maturing Youth with elements of both comedy and drama. More serious moments would highlight arguments, moments of reflection, and disappointment. While other silly more comedic moments would show humorous moments - such as Roger chasing his son around the house.
I went back and forth between lots of piano and guitar to match the existing soundtrack and music that was licensed. The instrumentation allowed me to capture the quirkiness when needed, but also the more serious, dramatic moments.
Much of my influence comes from composers who address such a wide range of scoring in a single movie or TV show. An example would be scoring a comedy in one moment and being able to jump into moments of epicness such as Robert Duncan scoring the TV series Castle and Paul Leonard scoring the movie and show Limitless.
How did you get involved with the project in the first place?
I applied to a composer ad I came across on Craigslist - so the numbers game actually does work!
I actually had applied to another project, which I believe they had crewed up for, but the producer of Maturing Youth, Chase [Michael Pallante] [Chase Michael Pallante interview - click here] made me aware when he found out I was comfortable with writing for pianos, guitars and integrating elements of pop into the score. And sure enough I fell in love with the story and was able to write the music!
Now how did you (and do you usually) approach composing the score for the film, to what extent do you familiarize yourself with it (and its theme) beforehands?
Itís never the same for every project and depends on a variety of factors. A big one has to do with when Iím brought in on the project. If Iím brought on earlier on, I can start writing demos and get familiar with the story earlier - sometimes getting to meet the cast and see read-aloud sessions!
However, I find myself, more often than not, brought on the project towards post-production. So Iíll often get inspiration from different films and try to get a story and vision from the filmmakers I work with. In the case of Maturing Youth, I spoke extensively to Chase [Michael Pallante] about the direction, and learn that I had to weave in and out between songs and score for the film. Additionally, Iíd go to highlights of the film, such as Sadieís phone call and try to develop themes and recurring sounds to bring back and forth in certain sections.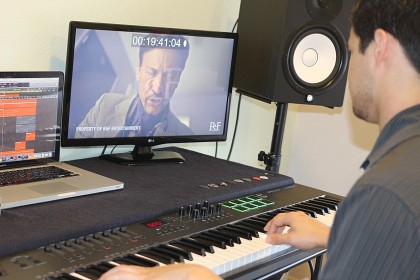 Courtesy of R&F Entertainment
What can you tell us about Maturing Youth's director Divoni Simon [Divoni Simon interview - click here], and what was your collaboration like?
I actually havenít met Divoni [Simon], mainly because Iím not based in New York (Iím based in Los Angeles). Although, it was amazing what Divoni [Simon] was able to put together on set and get out of the cast. I mainly interacted with the producer. Chase [Michael Pallante] [Chase Michael Pallante interview - click here] was very professional, but also flexible, which really was a blessing when it comes down to the creative process. He was very prompt with his emails and provided a very clear picture as to what kind of style of music as well as when he needed it. We would go back and forth between different scenes and occasionally combine the scenes to make sure the movie, as a whole, would work together. We did that until all the music was combined and we were happy with the full outcome.
Any future projects you'd like to share?
Iím currently working on finishing up a virtual reality experience called The Chimerical Era. Unlike most virtual reality experiences, itís done in a more cinematic style, where most VR is done interactively or more as a game. Itís steampunk and has lots of actions, so youíll definitely have to stay tuned and do a Google search! It will be coming out by next year and will be airing in various festivals.
Another project, Escape, is a comedy about 4 strangers, each very different and dynamic, trying to complete a space-room challenge. It is a finalist for the 24-hour film festival and will be screening by late August.
What got you into making music in the first place, and how did you get into scoring movies from that?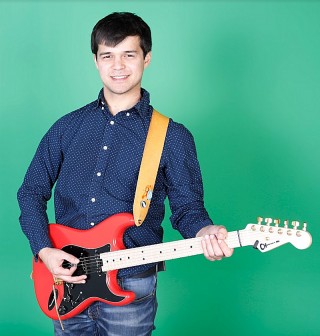 Courtesy of R&F Entertainment
School of Rock! The passion, the energy, the music, and really everything about it turned me on to music. I loved the idea of sharing emotions with an audience - and there I discovered my love for the guitar and jamming with other musicians. Where I found I didnít express myself well in day-to-day communication, I found music was my true way of doing so.
I then got into music production after my friend showed me, and had well prepared me for getting into scoring, which I discovered in a film scoring class, taught by Adam Schoenberg. He was much of the reason I was able to pursue my passion. I collaborated with a couple directors in school and was able to use that material as reel to get other jobs and make close friends and connections. Scoring had all the elements I loved - storytelling, collaborating with a wide variety of people (both musicians and filmmakers), and getting to write a wide spectrum of music, as stories and concepts can vary a lot.
What can you tell us about your filmwork prior to Maturing Youth?
Most all of my past works have been short films; although, I did act and sing in one episode of Key and Peele titled Acapella Skit. I also have written music for a talk show and continue to do so. Itís called So Janelle, airing on TFC and The Lifestyle Network.
Musicians who inspire you?
So many! Just to name a few: AC/DC, The Darkness, Simple Plan, Krewella, Lucas Joyner, A$AP Rocky, G-Eazy. Film composers include: Junkie XL, Robert Duncan, Hans Zimmer, Jerry Goldsmith and Paul Leonard.
And since this is primarily a movie site, your favourite movies?
All the movies for the Back to the Future series, School of Rock, and favorite recent movie would be Greatest Showman!
... and of course, films you really deplore?
I canít say I hate any films, but B-films such as Sharktopus - yes, youíve heard correctly (half octopus, half shark/Jaws) - are fun to laugh!
Your website, Facebook, whatever else?

Feeling lucky ?
Want to
search
any of my partnershops yourself
for more, better results ?

The links below
will take you
just there!!!


You can visit the relevant links such as my website and social media below:
www.facebook.com/alexellsworthmusic
www.instagram.com/alexellsworthmusic
www.twitter.com/aellsworthmusic
Films Official Website: www.MATURINGYOUTH.com
Facebook: "Maturing Youth" @maturingyouthfilm
Instagram: "Maturing Youth" @maturingyouthfilm
#maturingyouth #rfentertainment
Anything else you're dying to mention and I have merely forgotten to ask?
Just that Iíd like to thank all the people who have made it possible to pursue film scoring and songwriting, including my mom and dad, the Maturing Youth crew, my Uncle Larry and my friend and teacher Adam Schoenberg.
Thanks for the interview!