Your new movie Maturing Youth - in a few words, what is it about?
An irresponsible middle-aged stoner who still lives with and financially depends on his mother comes to terms with finally facing responsibility in the mask of fatherhood when his longtime ex-girlfriend introduces him to his illegitimate son. A story about life, love and loss. All of which we can relate to and connect with.
Is any of Maturing Youth based on personal experiences, and to what extent could you identify with Roger - or any of the other lead characters, really?
Pretty much all of Roger's character was based on myself and my frustrating attitudes at the time. Still living with mother while beginning to learn how to levy off financial dependency from my family. Throughout the production I myself was a stoner, and it wasn't until end of production that I stepped-up and matured enough to put the weed down and focus in order to advance my life, which I desperately needed to at the time. You can say, it was a self-awakening process for me and I am forever grateful for the chapter in my life.
(Other) sources of inspiration when writing Maturing Youth?
At the time in my life, speaking as a former stoner, mostly the ganja. Critics say the film reminds them of Adam Sandler's Big Daddy or Charles Dickens' A Christmas Carol, but, to be honest I haven't seen those films in many years, maybe they stayed around in my sub-conscious. I isolated myself inside my overactive imagination when writing the story in my backyard.
With your movie being limited to pretty much one location, what kind of challenges brought that for you as a filmmaker?
As you can expect, the lack of freedom to move around. The interior of the home used was very tight so that's why the camera throughout most the film was stationary. And, the exterior shots, too, mind you. Blocking certain actions and movements with the actors was difficult at times, but the talented Sean A Kaufman [Sean A Kaurman interview - click here], Kim Paris and Terrance Keene had the wonderful ability to get creative in a haste pace during the set-ups on-set between scenes.
What can you tell us about your overall directorial approach to your story at hand?
First and foremost to be open to new ideas and suggestions of the actors on-set. The characters wouldn't have popped on-screen as much as they did without their input into the mindsets of their alter-beings. I wanted the actors to get as much into the mindsets of their characters as possible - I even went as far as creating individual music playlists for them to listen to on a daily basis to know what Roger, Sadie, Maggie or Mae would listen to.
In Maturing Youth you also directed a young boy, Joshua St. Leger jr [interview with Joshua St. Leger's parents - click here] - so what were the challenges there?
Actually, Joshua St. Leger jr wasn't much of a challenge to work with. He's a kid, not a diva - what else can you expect? Kids cry here and there, sometimes takes time to aim their focus. But when it was time to rock'n'roll he definitely did that. All he had to do was smile, which I think he did a great at alone.
What can you tell us about the rest of your cast, and why exactly these people?
Apart from fitting the physical embodiment of Roger the most, Sean A Kaufman [Sean A Kaurman interview - click here], won me over with his theatrical acting chops - he can easily adapt to any situation on screen. With, Kim Paris, I was remarked by her ability to focus on the mood of the scenes she played; she really dug deeper into another emotional side of Sadie even I wasn't aware of. Terrance Keene was very aware of how important the impact his character will be to Roger; he was also able to deliver a strong performance during audition and, of course, on-set. I personally enjoyed watching the interaction of Darleen Rae Fontaine [Darleen Rae Fontaine interview - click here] and Rae'l Ba [Rael Ba interview - click here so much so that it made the interaction of Maggie and Mae so easy to translate on-screen. And, everyone else was a pleasure to work with.
A few words about the shoot as such, and the on-set atmosphere?
Everyone had one collective goal to make a film with a real meaning, not just purely entertainment. With that known to all those who joined the sail, it made the hard work we all had to dedicate ourselves to even more enjoyable now that it's finally coming to fruition.
The $64-question of course, where can Maturing Youth be seen?
At the moment, the film is going through the film festival circuits and you can keep up to date with more exciting information on the films official website and follow us on social media to get exclusive details about how, when and where to see our coming-of-age film.
Anything you can tell us about audience and critical reception of Maturing Youth?
Seems like majority are in favour of it. Which makes me a happy camper. You can read our press articles on the films official website.
Any future projects you'd like to share?
A chronic masturbator discovers his mother's porno tape online.
What got you into filmmaking, and did you receive any formal training on the subject?
I graduated the "Quentin Tarantino Film School", meaning, I sat myself down over a period of years educating myself the techniques of old-school Hollywood from 1910-1970s-the classic works of today. I study cameras and how they can shape the look of a film. Also, watching behind-the-scenes of any production I could find online allowed me to really dissect how the process is meant to be done.
What can you tell us about your filmwork prior to Maturing Youth?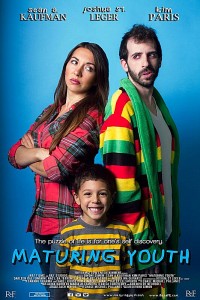 Feeling lucky ?
Want to
search
any of my partnershops yourself
for more, better results ?

The links below
will take you
just there!!!


I'm a first-time filmmaker. Maturing Youth was my first step in the door to the film industry.
How would you describe yourself as a director?
I'm open to suggestions that can help the flow of story, from actors to crew. Communication is key. I personally love improvisation during filming any scene, as long as it doesn't disrupt the narrative. The more you learn is the more you can use to your advantage on-set and I always aim to learn as much as I can.
Filmmakers who inspire you?
Stanley Kubrick, Akira Kuwaswa, the Coen Brothers, Spike Lee, John Singleton, Oscar Micheaux, Martin Scorsese, Francis Ford Coppola, Alfred Hitchcock, too many too name. The list keeps growing honestly.
Your favourite movies?
Dr. Strangelove, One-Eyed Jacks, The Conversation, Last Tango in Paris, Foxy Brown, Jackie Brown, Inherent Vice, Cape Fear, A Raisin in the Sun, The Big Sleep, Serpico, How Green was my Valley, The Purple Rose of Cairo, Being There, Days of Wine and Roses, and Sounder. Like I've said before the list goes on and on.
Your/your movie's website, Facebook, whatever else?
Films official website: www.MATURINGYOUTH.com
Facebook: "Maturing Youth" @maturingyouthfilm
Instagram: "Maturing Youth" @maturingyouthfilm
#maturingyouth #rfentertainment
Thanks for the interview!