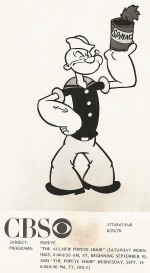 newspaper announcement 1978
By 1978, when the show first aired, Popeye had already seen numerous incarnations on film and TV - so do talk about how The All New Popeye Hour came together, and the idea behind it!
During the mid to late 1970's the trend appeared to be reviving popular cartoon characters in new programs. There was The Tom & Jerry/Great Ape Show in 1975, What's New Mister Magoo from 1977 and 1979's The New Adventures of Mighty Mouse and Heckle & Jeckle. It was no surprise when The Los Angeles Times reported on December 7, 1977:
"Popeye Will Return to Network TV Next Year
Popeye, the famous cartoon star still seen frequently in TV reruns, will return to network television next year in a new Saturday morning children's series, King Features announced Tuesday. Officials at the company said they licensed the animation rights for Popeye to Hanna-Barbera, which has a deal to produce 16 half-hour programs and an hour-long, prime-time Christmas special for CBS. The Saturday morning series is scheduled to debut next September and will feature Olive Oyl and Wimpy besides Popeye, the company said."
The Christmas special was replaced by one saluting Valentine's Day. The All New Popeye Hour would last for three seasons on CBS (1978-1981).
Now I do think everybody who reads this might know who Popeye is - but maybe not everybody's all that familiar with William Hanna and Joseph Barbera - so before we return to The All New Popeye Hour, could you talk about their contribution to animation during the decades prior, and the impact their company Hanna-Barbera had on TV animation?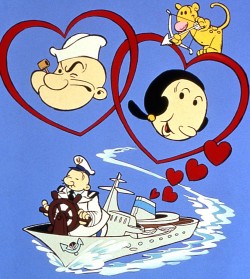 Valentine's Day Special
Noted author and animation historian Jerry Beck had this to say about Hanna-Barbera: "Bill Hanna and Joseph Barbera created, produced and directed Tom & Jerry cartoons for 15 years at MGM. They won numerous Oscars and later turned their attention into pioneering TV animation in 1957. In addition to creating popular characters like Huckleberry Hound and Yogi Bear, they also pioneered prime time animation with The Flintstones and Johnny Quest. Their influence on animation was tremendous."
Maybe connected to the last question, do talk about the animation style of The All New Popeye Hour for a bit!
The animation for the series was done well though some of the health and safety tips were rendered simplistically. Overall the show's quality was superior to many of shorts from the 1960's cartoon series produced by King Features Syndicate [see: When Popeye-Cartoons Became a Television Industry]. To be fair, Hanna-Barbera's production team was allotted more time.
Many say that with The All New Popeye Hour, Popeye had lost his punch - care to explain what exactly that means, and what were the reasons behind this? And to what extent did/does the original Popeye comicstrip rely on violence in general and punching particular, actually? And what can you tell us about fan reactions?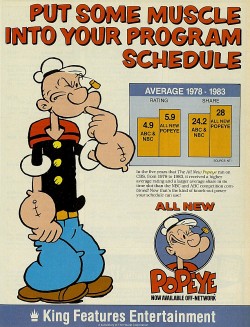 1983 advertisment
In terms of popularity Popeye did not lose his "punch". When the series debuted it was one of the highest rated programs on CBS' Saturday morning schedule. The punching could no longer be shown due to network regulations. More of the scripts emphasized Bluto's rivalry with Popeye. The brute would be seen perpetrating more dirty tricks than physical violence. For example Bluto would switch road signs or inflate Popeye with helium rather than knock him down with a punch. The lack of violence created more comedic elements in the stories. Additionally Olive Oyl was written as a more liberated woman. She could get herself out of situations without relying on any assistance. The original Popeye comic strip was created at a time when prize fighting was very popular. This was the sailor's original profession and naturally violence would be part of the strip. The success of the Saturday morning series, despite the lack of violence, did not affect Popeye's actions in the comic strip or books of the period. Jack Mercer, who provided Popeye's voice since 1935, stated the following regarding the violence in a syndicated article called A Less Violent Popeye Makes a Comeback: "The difficulty is cutting down on the violence. Popeye never did hurt anyone unless it was absolutely necessary. But the silly part of it is, the old violent shows are still being seen on TV all over the country and nobody objects. It doesn't make sense to impose different rules on the new ones." Mercer, as he did in the previous Popeye cartoons, was one of the show's writers. It should be noted, that along with Mercer, Hanna-Barbera's versatile voice actress, Marilyn Schreffer provided Olive Oyl's vocals (along with The Sea Hag). Character actor Allen Melvin (best known as Sam from The Brady Bunch and Barney from All in the Family) provided Bluto's gruff rumblings.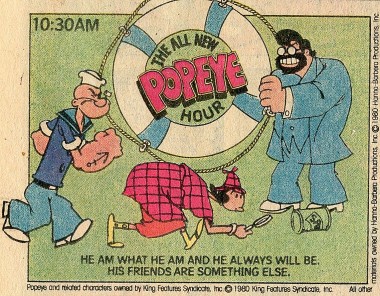 advertisment 1980
It should be noted here that in The All New Popeye Hour, the characters reverted to their appearances in the original Thimble Theater comic strips - so do you want to elaborate on that aspect of the show for a bit?
Hanna-Barbera went back to the comic strip/Fleischer Studios look for the characters. Popeye no longer wore his white sailor's uniform nor had two opened eyes. He was wearing a blue shirt, blue pants with red collar containing black stripes. In an early publicity drawing Popeye was wearing his original Captain's cap but this was changed to a sailor's hat. The sailor's hat was Popeye's headgear in the comic strip at the time. Olive Oyl went back to her homely interpretation. Swee'pea, Wimpy, Poopdeck Pappy, The Goons and Eugene the Jeep looked as though they leaped out of the comic strip page. Popeye's bearded foe was no longer called Brutus but back to his original moniker, Bluto [see: From Bluto to Brutus (and Back): Popeye's Bearded Foes Through the Years]. Bluto's visual design was altered a bit but still looked like the brute that enjoyed menacing Popeye and stealing his girlfriend.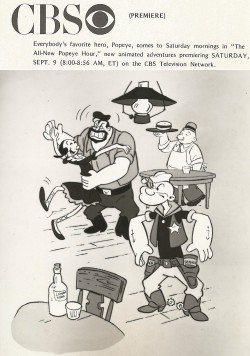 As far as I know, The All New Popeye Hour and its follow up from 1981 to 1983, The Popeye and Olive Comedy Show, featured quite a few distinct, erm, segments, like The Adventures of Popeye, Popeye's Sports Parade, Popeye's Treasure Hunt, Prehistoric Popeye and Private Olive Oyl - want to talk about some of these segments for a bit, and what was the idea behind them?
The Adventures of Popeye was the title for further adventures of the one-eyed sailor. Both Popeye's Treasure Hunt and Popeye's Sports Parade were broken up into two parts. The stories dealt with the sailor's competition with Bluto. Whether Popeye was helping a client locate hidden treasure or participating on the athletic field, Bluto was always an obstacle. Prehistoric Popeye and Private Olive Oyl were introduced when the series was retooled as The Popeye and Olive Comedy Show (1981-1983) and reduced to thirty minutes. Prehistoric Popeye featured the characters as cavepeople. Popeye often cracked open a can of rock spinach! Private Olive Oyl was the first time Popeye's girlfriend was featured in cartoons without her squinty-eyed beau. She was a private in the army along with Alice the Goon. Alice, in the comic strip, was originally The Sea Hag's monstruous slave but later became Swee'pea's babysitter. The cartoons were inspired by the feature film Private Benjamin (1980). Sgt. Bertha Blast was in charge of training Olive and Alice. She was forever being injured as a result of their antics. Actress and comedian Jo Anne Worley gave voice to the diminutive military woman. The effective thirty minute health and safety tips, from The All New Popeye Hour, were also seen on the half-hour series. It certainly was in keeping with Popeye's character to warn his young viewers the dangers of smoking dope, drinking alcohol and staying away from too much junk food.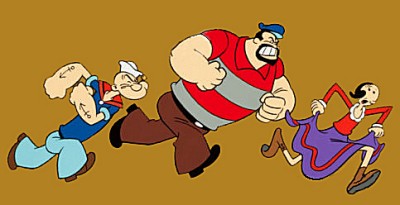 One also ought to talk about the one non-Popeye segment of The All New Popeye Hour, Dinky Dog, and how well did it go with the rest of the show?
Dinky Dog was unrelated to Popeye's universe and shown as part of The All New Popeye Hour. These episodes were later aired, in syndication under title Dinky Dog. The cartoons featured a family whose puppy grew to the size of a horse. Thirty two cartoons were produced featuring the voice talent of Frank Nelson, Julie Bennett, Frank Welker and Jackie Joseph.
Back to Popeye though: Of all the incarnations that Popeye has seen over the years, where would you place The All New Popeye Hour in terms of originality, faithfulness to the source material, animation and simply enjoyability?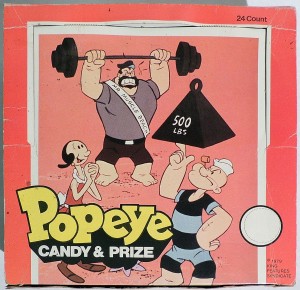 candy box 1979
Many critics don't like this version of Popeye because of the lack of violence. However you can't dismiss the fact these cartoons were very popular during their original broadcast on CBS and later in syndication. The characters' visual designs were faithful to both the Fleischer Studios period and comic strip interpretations. As previously mentioned, the animation was well done and I find the cartoons, on the whole, enjoyable. If parents want to introduce their children to Popeye's world without the ol' fisticuffs, these are the cartoons to select. Over one hundred new adventures were added to the sailor's film library. This was in addition to his four hundred and fifty four cartoons produced for theatres and television.
Where can those interested find out more about The All New Popeye Hour, or get to see some of the shorts even?
The shorts are currently available on Popeye's official YouTube channel titled Popeye And Friends Official where viewership, on individual postings, has surpassed over six thousand hits.
Thanks for the interview!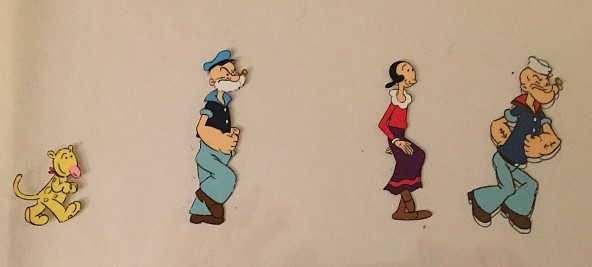 Eugene the Jeep, Poopdeck Pappy, Olive Oyl, Popeye in an animation cell.